April 23, 2021
In any given year, Mercy's more than 3,000 volunteers log hundreds of thousands of hours in service to communities across Mercy's footprint. But for more than a year, almost all of those efforts came to a halt because of the pandemic. While some volunteers continued to knit baby caps for newborns from home and assist in some vaccination clinics, most were unable to do the jobs they love. Now, as COVID-19 cases hit new lows, volunteers are eager to get back to work and serve.
"To see our volunteers return to our hospital and clinics is like watching flowers bloom in the spring. We don't have everyone back quite yet, but we know the garden will continue to grow and blossom," said Holli Oliver, director of mission for Mercy Hospital Northwest Arkansas in Rogers. "Every volunteer has a gift to share and we are grateful for this very special part of our Mercy community." 
While Mercy has missed its volunteers, they likewise have yearned to be back in facilities and hospitals to lend a hand whenever and wherever needed.
"All of the volunteers are so happy to be back," said Linda Hebert, a Mercy volunteer in Ada, Oklahoma, who has been a member of the auxiliary – one of the oldest in the state – since 2012. "It has been a long, trying year with fears of COVID-19. We are so thankful and full of joy to be able to give back to our communities again."
WATCH: Elated Mercy volunteers reflect as they return for duty
Mercy's volunteer programs were put on hold in spring 2020 as the pandemic began. A few Mercy volunteers were welcomed back last summer, but most locations allowed volunteers to return only recently. Efforts to bring back volunteers are underway at additional Mercy locations, including St. Louis and Springfield, Missouri.
"They are the most committed bunch of people you can imagine, and they have been grounded during this pandemic," said Lauren McGinnis, a senior manager with Mercy's St. Louis volunteer and guest services, recognizing their contributions during National Volunteer Month. "I think of our volunteers as the unseen stitches in a beautiful quilt; they hold it all together. They cuddle our tiny babies, greet visitors, ease the worries of family members and assist patients as they enter and leave the hospital. They do so much, and we have missed them tremendously."
Mercy volunteers include teenagers who want experience in the medical field, middle-aged people looking to give back, seniors who want to stay active and people with disabilities learning job skills. Volunteers commit to as little as one hour a month and as much as 40 hours a week. There are myriad ways in which volunteers serve.
"Studies have shown that when people volunteer, they improve physical health, reduce depression, increase self-worth and are likely to be more connected to their communities," said Dr. Katherine Garland, an internal medicine physician in St. Louis who has long believed that volunteering is a prescription for happiness. "Benefits can be seen at any age, but older adults who volunteer one to two hours a week experience lower rates of depression and an increased lifespan."  
While Mercy is welcoming back established volunteers, we are not currently taking applications for new volunteers. Please check back here soon for information about when Mercy will accept new applications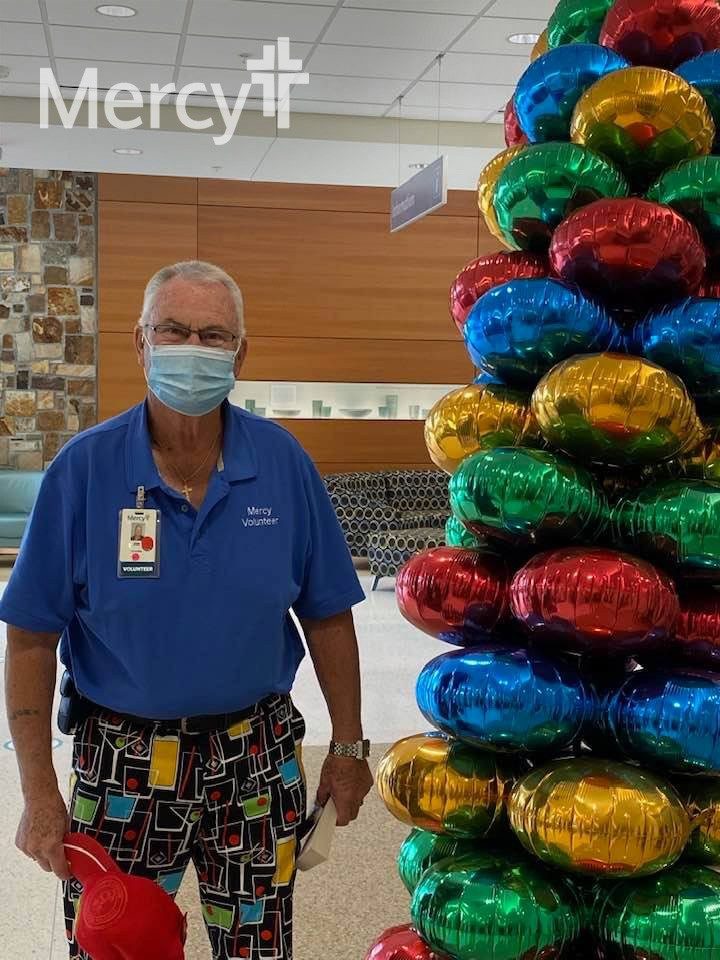 Media Contacts