June 1, 2021
WASHINGTON, Mo. – Interventional Cardiologist Dr. Geetha Ramaswamy, recently joined Mercy Clinic Heart and Vascular, 901 Patients First Dr., Ste. 2500, in Washington, partnering with Drs. Jeff Brown, John Mohart, Joseph Polizzi, Brian Seeck, Joshua Stolker and Michael Wood.
"Cardiology has been my passion ever since my early years in medical school," Dr. Ramaswamy said. "My goal is to develop a relationship of trust with my patients and ensure that they know I care about them and their health."
Dr. Ramaswamy treats a variety of cardiovascular and blood vessel issues with areas of expertise in coronary intervention, catheterization using the radial approach and endovascular procedures. Many of the procedures Dr. Ramaswamy performs are minimally invasive with faster recovery time and more desirable outcomes for patients and most will be done at the cardiac catheterization lab at Mercy Hospital Washington.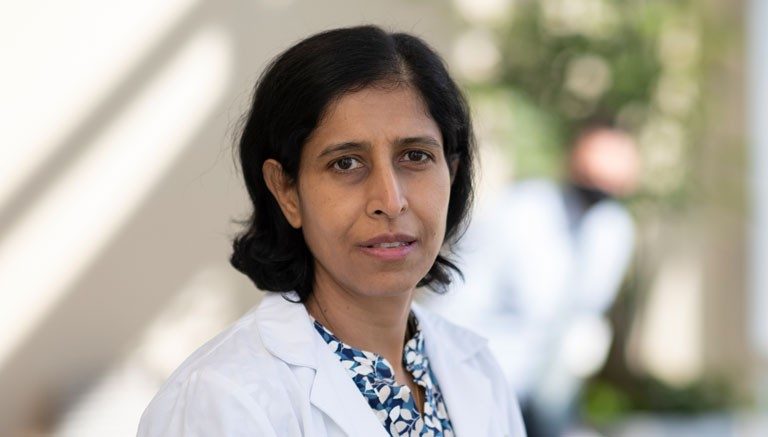 Dr. Geetha Ramaswamy recently joined Mercy Clinic Heart and Vascular in Washington, Missouri.
"We are very excited to welcome Dr. Ramaswamy to our team," said Brian Seeck, MD, section chair of Mercy Clinic Heart and Vascular in Washington.  "She brings amazing skills and advanced procedures to our clinic and the patients we serve. Her ability to offer minimally invasive structural heart procedures – like replacing a heart valve via a catheter instead of open heart surgery – could be a game changer for some patients." 
Dr. Ramaswamy offers heart failure and valve disease management, peripheral arterial disease screening and management, echocardiography, and stress testing. To learn more or to schedule an appointment, call 636-239-2711.
To learn more or schedule an appointment, please click here.
Media Contacts
Bethany Pope
St. Louis, St. Charles, St. Louis - South, Troy, Festus