Megan Bell is a lifelong Jefferson County resident whose dedication to caring for her community started as a volunteer candy-striper at Jefferson Memorial Hospital before it became Mercy Hospital Jefferson. Her passion for women's health lead Bell to become a women's health nurse practitioner with Mercy Clinic OB/GYN – Jefferson and Mercy Clinic OB/GYN – Farmington.
Bell lives in DeSoto with her husband, their three children, two cats and one dog. She is an avid reader, loves the holidays and playing games with family and friends. Her kids keep her and her husband busy, especially with sports; but that busy life has allowed them to meet and become friends with a lot of wonderful people.
Did you always know you wanted to be a nurse practitioner?

When I was growing up, I originally wanted to become a doctor, an OB/GYN. But, I was intimidated by the length of schooling and the cost.  I knew for certain I wanted to work in the medical field and with babies, so I became a nurse. I did my preceptorship in the nursery when the hospital was Jefferson Memorial Hospital, and I earned a nursing job at the hospital right after graduating in 2004. I worked on the labor and delivery floor for almost 18 years and loved it, but I wanted to have an impact on patients before they reached the hospital setting. That's why I went back to school to become a nurse practitioner.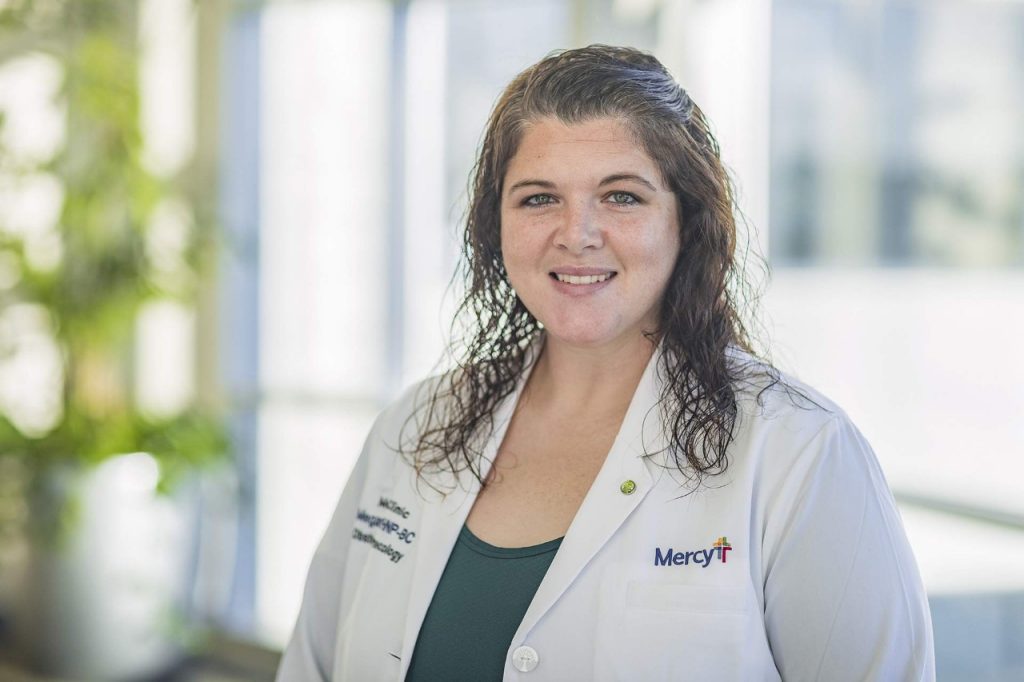 Megan Bell is a lifelong Jefferson County resident who is now caring for patients as a nurse practitioner at Mercy Clinic OB/GYN - Jefferson and Mercy Clinic OB/GYN - Farmington.
What drew you to your specialty?

I have always had a passion for labor and delivery. Even through nursing school, my interest never wavered. I could not imagine doing anything but women's health. Over time and with experiencing different stages of life as a woman, it has reinforced that my decision to do women's health was the right one. Being an advocate for women and ensuring they are getting the care they deserve and need is very important to me.
What made you want to join Mercy?

My grandma worked many years in the ICU at Jefferson Memorial, which led me to volunteer as a candy-striper in high school. I knew then I would want to work at this hospital. I have lived in Jefferson County my whole life and wanted to provide a way to give back to the community. Working at this hospital is a way to do that and allows me to give more of my time to patient care rather than commuting to a further location.