January 17, 2022
ST. LOUIS – A new and convenient combination for on-demand care needs and filling prescriptions is now available in Lake St. Louis with the opening of a Mercy-GoHealth Urgent Care and a Mercy Pharmacy Dierbergs in the same retail plaza. Mercy-GoHealth Urgent Care added a location at 6460 Ronald Reagan Drive in the Shoppes of Hawk Ridge in Lake St. Louis, where Mercy Pharmacy Dierbergs opened in November 2021. With this expansion, Mercy-GoHealth increases its total number of centers serving the metro area to 20, and Mercy now offers 35 retail pharmacies in the St. Louis region and 49 across Mercy's four states.  
This Mercy-Go Health opening provides even greater access to the St. Charles County community adding a sixth center to locations in O'Fallon, Wentzville, Cottleville, St. Peters and St. Charles. When choosing locations for its services, Mercy-Go Health is focused on making care highly accessible for patients. There are multiple retail plazas in the metro area with a Mercy Pharmacy Dierbergs and Mercy-GoHealth Urgent Care steps apart.
"The one-stop shop approach has proven valuable to our patients," said Ajay Pathak, Mercy senior vice president and chief strategic ventures officer. "We know our patients want convenience when it comes to health care and having these two vital services available in one new retail plaza makes it simple. When patients leave a Mercy-GoHealth Urgent Care with a prescription, they can walk next door to Mercy Pharmacy Dierbergs to pick it up all while taking care of their shopping needs."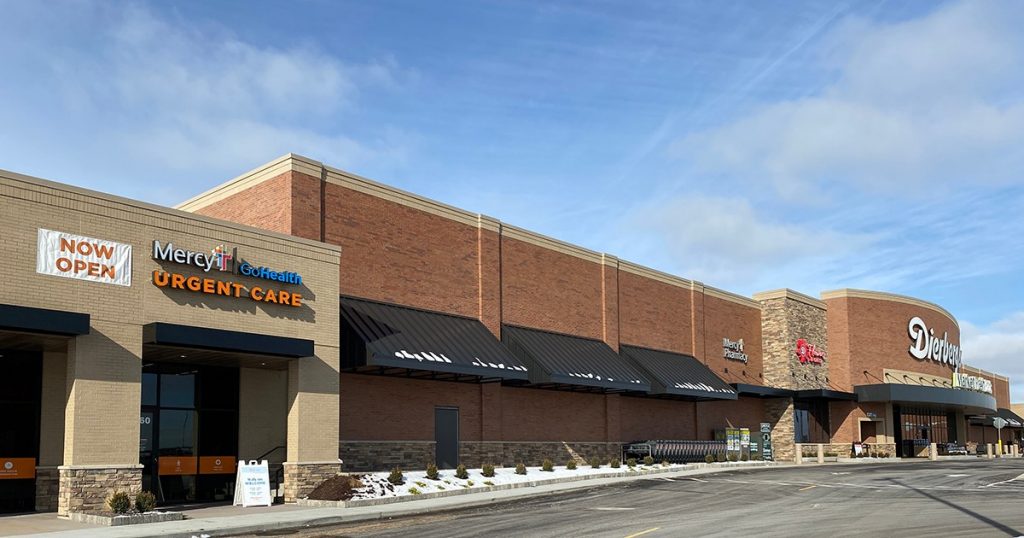 Mercy-GoHealth Urgent Care and Mercy Pharmacy Dierbergs conveniently next door in new Lake St. Louis retail center.
As a leading provider of on-demand care services in the St. Louis metro area, Mercy-GoHealth Urgent Care supports Mercy's reputation of high-quality, compassionate care that helps patients be well in mind, body and spirit with industry-leading patient satisfaction ratings, customer-focused technology and award-winning center design.
"Convenient, high-quality care that is seamlessly connected to Mercy's primary and specialty care providers is key to supporting the health and wellness of our community," said Sherry Buebendorf, regional president for Mercy-GoHealth Urgent Care. "We have served the St. Louis region for three years and are proud to continue our commitment of delivering accessible care to the communities we serve. This opening could not come at a better time, when the need for on-demand care is so significant in this region."
Mercy-GoHealth Urgent Care centers provide care for non-life-threatening illnesses or injuries, on-site X-ray services and COVID-19 evaluation and testing. Patients have access to quality care quickly and effortlessly with the options to walk in any center or go online to check wait times, save a spot online and pre-register. Patients can also connect with a local Mercy-GoHealth Urgent Care provider remotely through a virtual visit, which can be done conveniently via a mobile device, computer or tablet. The new Lake St. Louis center is open Monday through Friday, 8 a.m. to 8 p.m., and weekends 9 a.m. to 5 p.m.
For a full list of Mercy-GoHealth Urgent Care locations, click here.
GoHealth Urgent Care is an on-demand consumer-centric care platform that serves as the digital and physical front door to the healthcare ecosystem. At GoHealth, we aim to provide timely, accessible and high-quality on-demand care to patients, both virtually and in person, through both our technology-enabled and data-driven approach to care and partnerships with market-leading health systems. GoHealth operates over 170 on-demand care centers in the greater New York metropolitan area; the Portland, Oregon-Vancouver, Washington, metropolitan area; the San Francisco Bay Area; Hartford and Southeastern Connecticut; Winston-Salem and Charlotte, North Carolina; St. Louis and Springfield, Missouri; Oklahoma City, Oklahoma; Northwest Arkansas; Delaware and Maryland. 
GoHealth Urgent Care is a portfolio company of TPG Growth, the middle market and growth equity investment platform of TPG, which has more than $103 billion of assets under management. 
Mercy, one of the 25 largest U.S. health systems, serves millions annually with nationally recognized quality care and one of the nation's largest Accountable Care Organizations. Mercy is a highly integrated, multi-state health care system including more than 40 acute care, managed and specialty (heart, children's, orthopedic and rehab) hospitals, convenient and urgent care locations, imaging centers and pharmacies. Mercy has 900 physician practices and outpatient facilities, 3,400 Mercy Clinic physicians and advanced practitioners, as well as more than 40,000 co-workers serving patients and families across Arkansas, Kansas, Missouri and Oklahoma. Mercy also has clinics, outpatient services and outreach ministries in Arkansas, Louisiana, Mississippi and Texas.
Media Contacts
Bethany Pope
St. Louis, St. Charles, Troy, Washington