Up to 80% of adults will at some point experience neck or back pain that interferes with daily activities. To address the growing number of patients with ongoing pain, Mercy Spine Center and Pain Management, 851 E. Fifth Street in Washington, recently opened its newly renovated space adding just over 1,000 square feet.
The new center, which focuses on non-opioid pain management, includes a second procedure room with advanced imaging and patient monitoring equipment, four additional perioperative bays, superior temperature and humidity controls for both rooms, and recovery room capabilities for more critical cases. 
Anesthesiologists Drs. Justin Naylor and Matthew Rahrig, both board certified in anesthesiology and pain management, average 125 procedures per week.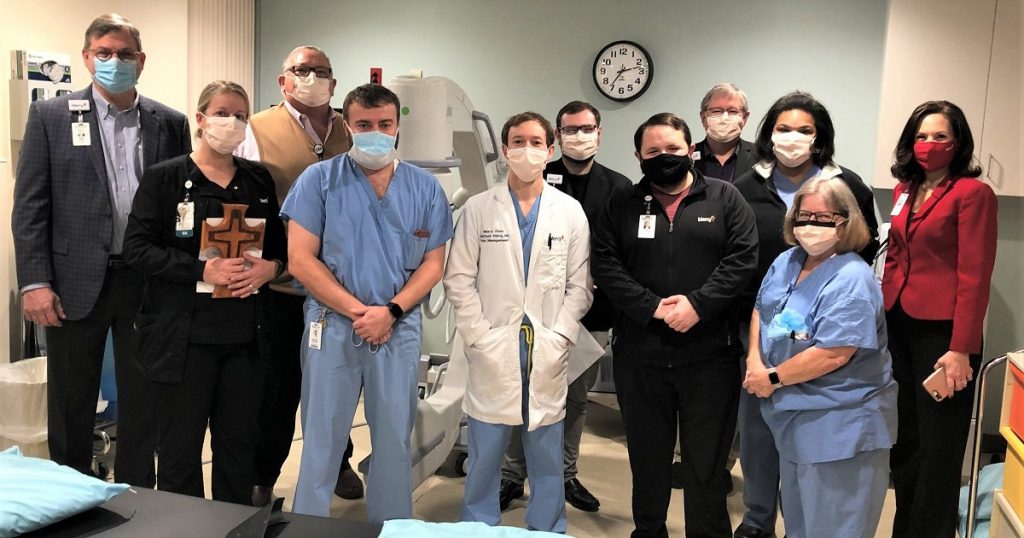 Mercy Spine Center and Pain Management clinicians and leaders gathered for a blessing of the newly expanded space.
"We know how frustrating it can be to suffer in pain but have to wait for an appointment. The expansion has decreased wait times on the procedure end and in-office consults," said Dr. Naylor, director of Mercy Spine Center and Pain Management. "We've added more office days, which means most patients can get in for procedures and consults in less than two weeks, down from around four weeks before the expansion."
The additional space and streamlined patient point-of-care system has led to greater satisfaction for patients and referring providers. While the schedule has improved, insurance approval can still be a limiting factor for procedure wait times.
To schedule an appointment in Washington, or one of the satellite offices in Ballwin or O'Fallon, Missouri, please call 636-239-8097.