February 28, 2022
ST. LOUIS - Mercy-GoHealth Urgent Care today announced the relocation and reopening of its center in Fenton. The new location is just 0.6 miles from its original Gravois Bluffs site in a convenient space in the Gravois Bluffs Plaza. The center, located between the Mattress Firm and Rally House near Walmart at 676 Gravois Bluffs Blvd., Suite A1, opens to patients on Monday, Feb. 28.
"The relocation of our Fenton center provides those living and working in this community with a fresh and easy-to-find, centrally located option for urgent care services," said Dr. Jaime Zengotita, Mercy-GoHealth Urgent Care medical director. "The community's need for convenient on-demand care will continue to grow as people return to normal day-to-day activities like recreation and travel. Now people in Fenton can more easily access the connected care they need."
Mercy-GoHealth Urgent Care's new Fenton location will serve the community mornings, evenings and on weekends, with hours from 8 a.m. to 8 p.m. on weekdays, and 9 a.m. to 5 p.m. on weekends. Like its previous location, the caregivers at the relocated center will treat non-life-threatening illnesses and injuries, provide X-ray services and offer COVID-19 evaluation and testing.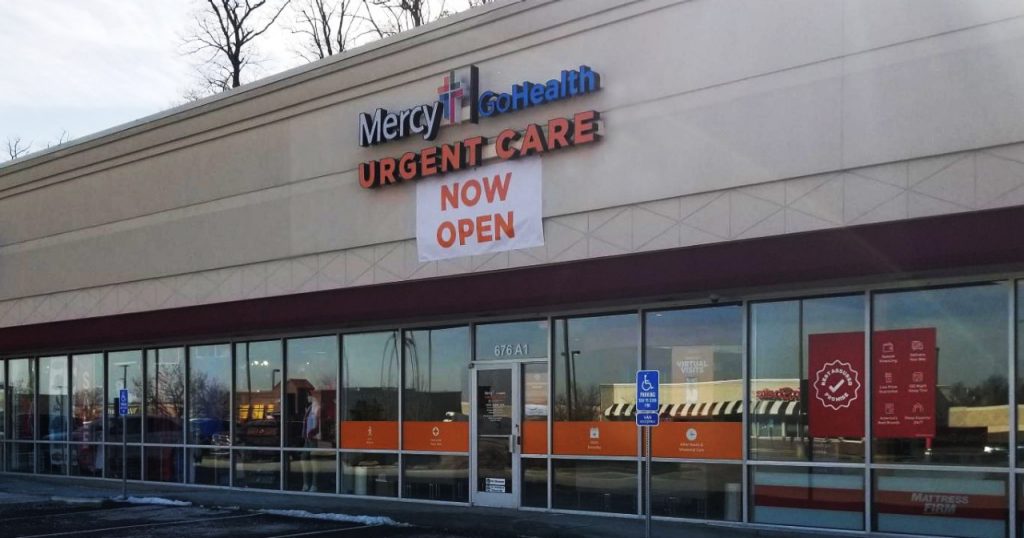 "We know patients have many choices when it comes to urgent cares, which is why our Mercy-GoHealth Urgent Care centers are thoughtfully placed in retail plazas, making it convenient for our patients to get the care they need while going about their daily activities," said Ajay Pathak, Mercy senior vice president and chief strategic ventures officer. "The Fenton community will appreciate the convenient and updated space."
Those seeking care can be seen quickly and easily by walking into any Mercy-GoHealth Urgent Care or going online to save a spot and pre-register. Patients may also connect with a Mercy-GoHealth Urgent Care provider remotely with a Virtual Visit, which can be done via a mobile device, computer or tablet.
For a full list of Mercy-GoHealth Urgent Care locations, click here.
Mercy, one of the 25 largest U.S. health systems, serves millions annually with nationally recognized quality care and one of the nation's largest Accountable Care Organizations. Mercy is a highly integrated, multi-state health care system including more than 40 acute care, managed and specialty (heart, children's, orthopedic and rehab) hospitals, convenient and urgent care locations, imaging centers and pharmacies. Mercy has 900 physician practices and outpatient facilities, 3,400 Mercy Clinic physicians and advanced practitioners, as well as more than 40,000 co-workers serving patients and families across Arkansas, Kansas, Missouri and Oklahoma. Mercy also has clinics, outpatient services and outreach ministries in Arkansas, Louisiana, Mississippi and Texas.
GoHealth Urgent Care is an on-demand consumer-centric care platform that serves as the digital and physical front door to the healthcare ecosystem. At GoHealth, we aim to provide timely, accessible and high-quality on-demand care to patients, both virtually and in person, through both our technology-enabled and data-driven approach to care and partnerships with market-leading health systems. GoHealth operates over 170 on-demand care centers in the greater New York metropolitan area; the Portland, Oregon-Vancouver, Washington, metropolitan area; the San Francisco Bay Area; Hartford and Southeastern Connecticut; Winston-Salem and Charlotte, North Carolina; St. Louis and Springfield, Missouri; Oklahoma City, Oklahoma; Northwest Arkansas; Delaware and Maryland. 
GoHealth Urgent Care is a portfolio company of TPG Growth, the middle market and growth equity investment platform of TPG, which has more than $103 billion of assets under management. 
Media Contacts
Bethany Pope
St. Louis, St. Charles, Troy, Washington
Joe Poelker
St. Louis - South, Festus