March 10, 2022
Patients of Sister Julie Pham at Mercy Clinic Gastroenterology-Whiteside in Springfield, Missouri, will soon learn she's eager to care for more than just your physical health.
"I believe that mind, body and spirit are all connected," she said. "When one part suffers, the other parts can, too, but if one part is boosted up, the other parts are as well. So, if your physical health is not doing well, not only work with the doctors on your treatment, but also keep a good balance of your mind and spirit, too."
Sister Julie belongs to the Congregation of Mary Queen, American Region. The regional headquarters are in Springfield, and the motherhouse is in Ho Chi Minh City, Saigon. She grew up in a suburb of Dallas, Texas.
"My journey to religious life was quite long," she shared. "It took about 13 years. It's a long story, so I would just say that God's call is the most important call you will ever receive. He asked, and I answered. I made my first vows of poverty, chastity and obedience on March 19, 2021. The Holy Spirit chose me to come to Springfield and through the vow of obedience, here I am."
While the path to Sisterhood took a while, Sister Julie always figured she would go into medicine. "My heart has always been with those who suffer, especially from chronic disease," she said. "Since I was in first grade, one of my favorite stories of Jesus is the story of the hemorrhaging woman, who touched Jesus' cloak and was cured after suffering for 12 years. I remember imagining her long suffering and ultimate joy of finally finding relief."
When she isn't seeing patients, Sister Julie is always looking for fun. "If you tell me it's going to be fun, I'll be there," she said. "My new hobby is pickleball. I have a lot of hobbies because I love playing most sports and reading a variety of books. I also love to eat, which has become problematic because I only have three religious habits to wear and they're getting tight!"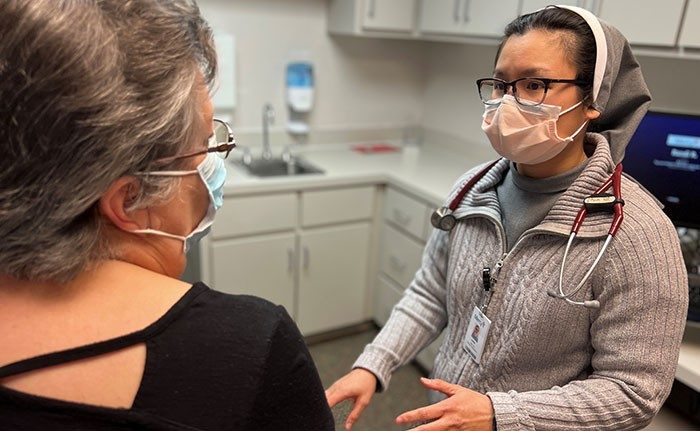 Media Contacts
Sonya Kullmann
Branson, Cassville, Lebanon, Mountain View, Rolla, Springfield, Aurora