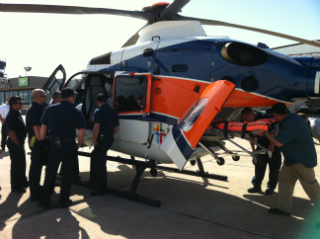 Mercy Life Line is committed to education as a means of providing highly skilled professionals to rapidly transport the critically ill or injured patients in our service area.  Life Line's outreach and educational programs reflect our commitment to community and other health care partners.  It is our goal to continue providing educational opportunities about new and progressive trends in emergency medicine and critical care.
Life Line Night Out is a dynamic lecture series designed to bring quality educational opportunities to rural and other health care providers of emergency services.  Flight crewmembers and other guests from Mercy offer innovative presentations on the latest trends in emergency care.  Some continuing education credits may be available.  Life Line Night Out is available to any emergency medical service, hospital, or ER professional within our service area.  For more information contact the Outreach Office at 417-820-5302.
Ground Operations Safety Course is a course is designed to provide a thorough knowledge of all aspect of air medical operations, with emphasis on landing zones and aircraft safety.  The course offers continuing education opportunities for those involved in rescue and fire fighting.  To schedule, please call the Outreach Office at 417-820-5302.
Life Line Flight Preparation Class is an interactive lecture class designed for ER and ICU professionals to assist in expediting air medical transfer of the critically ill patient.  For more information contact the Outreach Office at 417-820-5302.
SOAR (Student Observation and Ride-Along Program) is structured to allow health professionals, law enforcement or related EMS personnel who meet specific requirements to accompany the Mercy Life Line flight team on missions.  This program promotes an atmosphere of understanding and appreciation for every person or agency that provides quality care for the citizens we jointly serve.  Please contact the Outreach Office at 417-820-5302 for more information.
Resources