Try something that will last.
This 10 week weight loss class will focus on YOU.  This class incorporates all aspects of health: meal planning, exercise, sleep, and stress.  Each person will be given an individualized meal plan with guidelines to follow that allows you to make the best food choices.  Each week will build from the week before, and will provide tools and resources for you to achieve your goals. Week 1 is required so we can build your specialized and individualized plans.
The classes begin at 5:15 p.m. and will last approximately 60 minutes, weekly.
Registration fee must be paid prior to the first meeting. After registering online, we will contact you to finish the registration process.
Registration fee: $50
Each week: $5
Pay for entire program up front and receive a 25% discount!
Schedule
Week 1: [Required Attendance] Introductions and expectations; Goal Setting (SMART), Stages of Change
Week 2: Meal Plans, Carbohydrates, Fats and Proteins
Week 3: Real Food Principles & Label Reading
Week 4: Food, Food Addiction and Chronic Disease; Meal Planning
Week 5: Priciples and Benefits of Exercise - Guest speaker: Chuck Kitchen

Week 6: Grocery Store Tour - Price Cutter
Week 7: Mindful and Intuitive Eating - Guest Speaker

Week 8: Sleep and Weight - Guest Speaker
Week 9: Cooking Demo
Week 10: Overcoming Barriers and Sticking to the Plan; The BIG celebration
It is recommended to complete the full 10 weeks for best results. Schedule subject to change.
Patient Testimonials
"I've tried Weight Watchers, Nutra System, HCG, Fen-Phen, and there's probably more I can't think of right now but nothing has "clicked" like this class! I think it's learning the benefits of eating healthy and eating real food, and although beneficial in weight loss it's also a lifestyle change that I really like and can do from now on! I don't feel trapped by my bad choices anymore, I know how to make good choices now and it's empowering!! " – Connie S.
"This new way of eating is exciting for me. I am totally shocked at the foods that can be eaten. First, I have ever really understood the carb, protein, fat thing! I have a long way to go to totally understand it, but as I was wishing for when I joined this program...A new life style; a new set of choices...my old way was not working or I would not have found myself in this program!" – Teresa S.
"I knew I was wanting to lose weight when I started this class, but am getting a lot more out of it than just that. I am learning how to make REAL choices and can say I am enjoying sitting down to eat knowing this is my new way of life, that will make my life longer." – Marolyn H.
Our Registered Dietician

Jordan Nichols
MS, RD, LD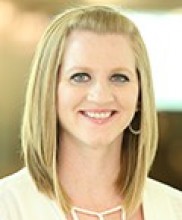 Danielle Keltner
MS, RD, LD
Resources