Mercy Bike Team- All members of the Mercy Bike Team must complete a 40 hour IPMBA (International Police Mountain Biking Association) training course, in addition to an annual refresher course prior to the season starting.  The training focuses on cycling in large crowds, slow maneuvers, proper cycling techniques, bike maintenance, and long distance riding.   This team is used in large crowds for easy maneuvering during fairs, community events and festivals.
The MARC (Medical Assist Response Cart) – is a support vehicle used for the Bike Team.  When the Bike Team is at an event, the MARC will also be on site, staffed with one person and equipped with full ALS capabilities.  In the event we have a patient at the event, the Bike Team responds and if transport is required, they will summon the MARC to come over at the same time they request a unit to respond.  The patient will be loaded on to the MARC with one of the bike medics attending while they drive the MARC off property to rendezvous with the incoming unit.
SRT Medics (Special Response Team) – there are 10 tactical trained medics and three emergency physicians with Mercy EMS Greene county. They serve as the medical component to the Springfield Police Department and deploy with them for various reasons including: barricades, high risk warrants and hostage situations. Though it may seem that this activity is minimal, we deploy with them about 170 times per year and train with them once every month.  The uniform for the Medics are equal to what the police wear with the exception of the nomenclature on the gear. Rather than "POLICE" ours read "MEDIC".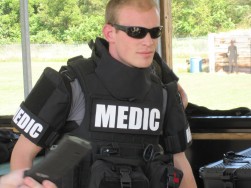 Resources