405 Woodland Hills Boulevard
Hours of Operation:
Monday-Friday: 7 a.m. - 7 p.m. Fitness center accessible all other days and times with a 24-hour access badge only.
Mercy Health For Life in Fort Scott, KS is not only a resource for patients needing sports medicine, cardiac rehab, or physical / occupational therapy; it is also a community gym, where you'll find equipment, personal training and classes that support healthy lifestyles, and staff members who encourage you to work toward your fitness goals.
Mercy Health for Life fitness center is now 24/7 access. With the purchase a special access card for only $10, our members can upgrade to enjoy the freedom of exercising at a time convenient for them, any day of the week.
Monthly membership dues still apply. See our friendly fitness center staff to assist you with membership purchases, questions and changes.
Fitness Center Services:
Personal training for a customized workout
Cardiovascular equipment with individual cardio theaters
Free weights, dumbbells and fitness balls
Strength training equipment
Satellite music with surround sound and a big-screen TV
Fitness classes, such as Pilates, spinning, boot camp, aerobics and more
Massage therapy services
A pro shop where you can purchase fitness items, power drinks, headphones and more
Equipment:
Cardiovascular equipment, including treadmills, ellipticals, nu-steps, bicycles and recumbent bikes
Individual televisions on treadmills and ellipticals
Numerous free weights and dumbbells
Wide variety of strength training equipment
TRX
Fitness balls, resistance bands, yoga mats, step risers and much more
Satellite Music Surround Sound
Two big flat screen HDTVs
Fitness Center Amenities:
Free fitness consultation with personal trainer
Free dietician consultation
Free towel usage
Free daily locker usage
Showers available
Retail items (drinks, clothing, accessories, headphones, pain relieving lotions)
Health for Life Contacts:
Personal Training - 620-223-7073
Diamonds in the Market Place Salon - 620-223-8420
Massage Therapy - 620-223-7073
Meet Our Personal Trainer
Personal Trainer Services:

Professional assistance in designing a safe and comprehensive wellness program
Individualized and customized work-out programs to meet your needs
Helps ensure accountability to achieve your personal goals
Initial & continual assessment of your progress
Comprehensive documentation of your program (A personal trainer takes the guesswork out of your workout routine)
Support in defining attainable short and long-term goals
Flexible hours to meet your busy schedule
Provides individual instruction for improved strength and conditioning for better athletic performance
Designs exercise programs to target your fitness needs or sport specific performance
 
Richard Wallace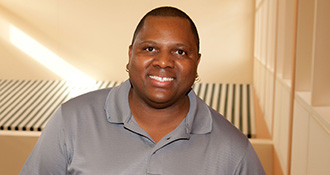 Personal Trainer Richard Wallace can help improve your wellness and meet your personal fitness goals. Rich Wallace has more than 20 years of personal training, sports enhancement training and body building experience. Clients thrive on his dynamic and enthusiastic personality.

Membership Fees
Initial Joining Fee
Single - $45
Family - $70
Active Military Duty - $10
Monthly
Single - $30/month
Family* - $40/month
Silver Sneakers Membership Available
Active Military Duty (current military ID requried)
Single - $25/month
Family - $35/month
Guest Pass Fees
Daily Guest Pass - $5
10 Visit Punch Card - $40
Student/Active Military 10 Visit Punch Card - $30
Student/Active Military 5 Visit Punch Card - $15
Monthly Locker Rentals
Large lockers: $7/month
Small lockers: $3.50/month
Tax will be added to all membership and guest fees.
*Children under 16 must be accompanied by an adult. Children 12 years and under must have a written note from a physician for a prescribed medical necessity and must be accompanied by an adult.

Call for special student rates. No joining fees if purchasing an annual membership.
Diamonds in the Market Place Salon
Our cosmetologists strive to make their clients' experience in our salon wonderful.  With highly-qualified stylists, we are able to offer a wide variety of services to meet the needs for women, men, children and even special occasions.
Services include:
Haircuts and design
Color
Perms and straightening
Pedicures
Makeup
Waxing
The salon is located in the lower level of Mercy Hospital near Mercy Health for Life.
We look forward to seeing you. Call 620-223-8420 for an appointment.
Services Offered