Nine out of 10 car seats are installed incorrectly. We recommend that you always consult the manufacturers' instructions for the vehicle and the car seat before installing or using a car seat and have your car seat installation checked by a Certified Child Passenger Safety Technician.
Mercy is a National Inspection Station for car seat installations and a leader in child passenger safety education.
To schedule a car seat check or to get answers to car seat questions, please call our safety hotline at 417-820-SAFE (7233).
Choosing a Car Seat
Choosing a car seat can be a difficult task. There is more to picking a car seat than selecting the cutest fabric. There is not a brand or style of car seat that is safest for your baby. All car seats on the market meet the same minimum federal crash test requirements.
The best seat is the one that fits your baby, fits your vehicle and one that you will use correctly every time your baby travels.
In order to protect their head, neck and spinal cord, the American Academy of Pediatrics recommends children to ride rear-facing until the age of two.
Parents are encouraged to visit their local retailer to get hands on experience with car seats. Play with them and see which one you like and which one is easiest to use. Then you can decide which one works best for you and your baby.
Types of Car Seats
Each car seat is different, so refer to the instruction manual for their maximum weight and height requirements.
Infant Seats
As a convenience and to prevent misuse, many parents choose an infant seat that has a detachable base. The base attaches to the car and the infant car seat easily attaches to the base. This allows you to carry the baby in and out of the car without installing the car seat or base each time. There are several options that may make using a car seat easier. For example, a car seat with a front pull harness adjuster may be easier for you to use than one with a rear harness adjuster.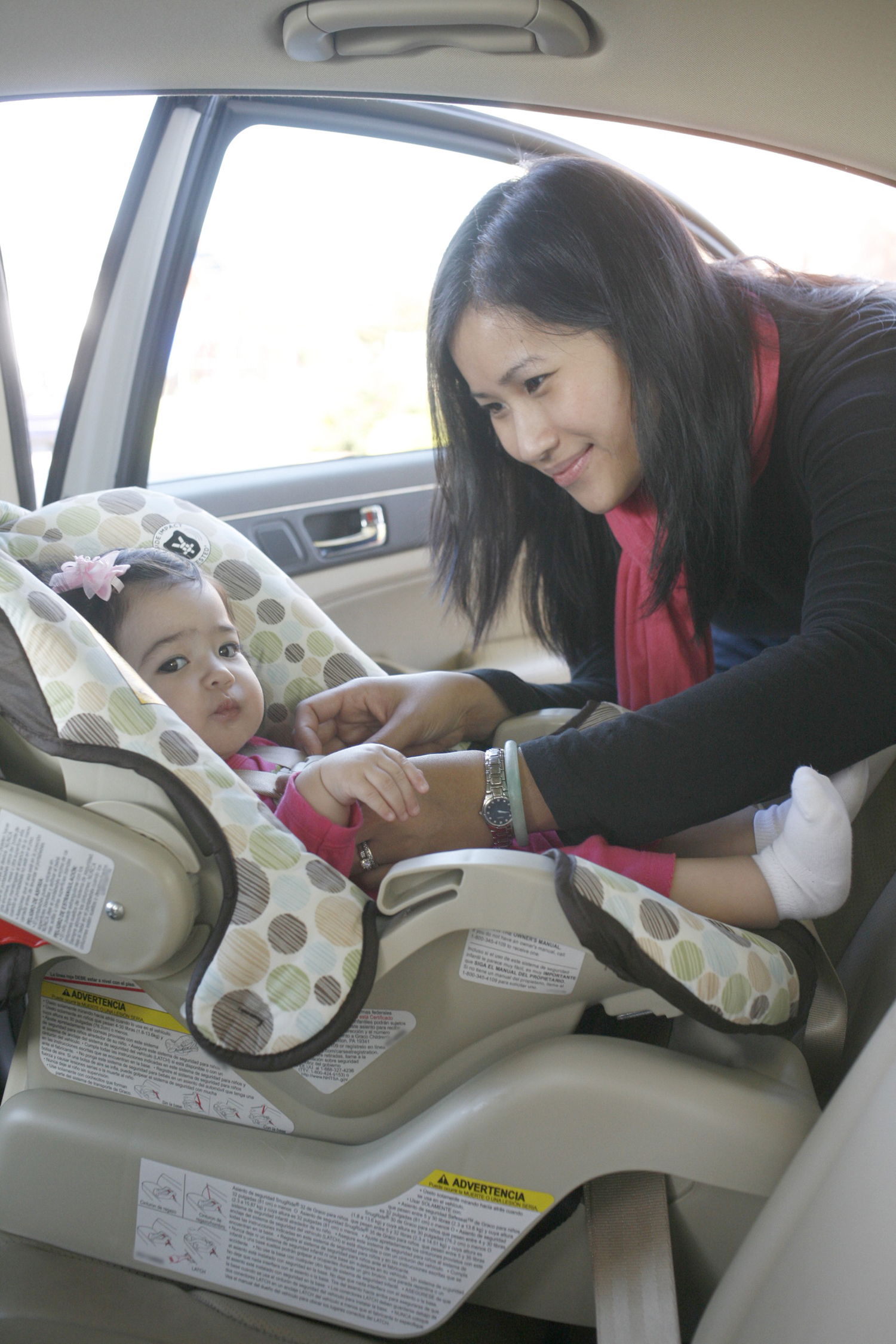 Convertible Seats
A convertible seat can be used both rear-facing and forward-facing. Once your child outgrows the height or weight limit for rear-facing, this seat can be turned around and installed using the forward-facing belt path.
Combination Seats
When children have outgrown their rear-facing and convertible seats, a combination seat can be used. This type of seat is for forward-facing only, and can be used with the harness or seatbelt. Once your child outgrows the height or weight limits for the harness, the harness straps can be removed. Then your child can use the combination seat with a seat belt, similar to a high-back booster seat.
Booster Seats
Children do not fit properly in seatbelts until they are 4'9" tall. The lap belt should fit low on the hips, not across the abdomen. The shoulder belt should cross the middle of the chest and the shoulder, not across the neck. Your child can be severely injured or killed in a crash if the seatbelt is not worn properly. Booster seats allow the lap and shoulder seatbelt to fit properly. This will keep your child safe in a crash. Booster seats are designed for use with the lap and shoulder belt. This gives your child the most amount of protection in a crash.
Booster seats are available for kids who weigh up to 80 and 125 pounds. Most children like to sit in booster seats because it allows them to see out the window. There are several types of booster seats on the market. For questions about booster seats or if your car only has lap belts in the back seat, contact a Certified Child Passenger Safety Technician at 417-820-SAFE (7233).
Is your child big enough for a seat belt? If you answer yes to all of the following questions, your child is big enough to use an adult seat belt without a booster seat. Can he:
Sit straight against the vehicle seat back?
Bend his legs naturally at the edge of the seat?
Sit comfortably without slouching for the entire ride?
Keep the lap belt down on the hips, touching the thighs?
Sit with the shoulder belt on the center of the shoulder?
Used Car Seats: An Unsafe Choice
It may be tempting to buy a used car seat from a thrift store or a garage sale. However, it is recommended that used car seats be destroyed. During normal use, car seats undergo stress as well as temperature changes from being in the car. No one can be certain as to the crash history of a used car seat; therefore, no one can be certain that a used car seat will perform properly in a crash.