Services are provided by Mercy Hospital Oklahoma City
Learn more »
Hours of Operation:
Monday-Friday: 8 a.m. - 5 p.m.
Life Preserving Care for the Brain and Spine
The medical specialists with Mercy NeuroScience Institute in Oklahoma City are experts in the care of the nervous system, brain and spine. We are the largest, most comprehensive team of neuroscience specialists between St. Louis and Phoenix.
Our goal is to provide complete, compassionate and personalized care that will get you back on your feet and living life to its fullest. We use the most advanced tools and proven methods to cover the full spectrum of care – diagnosis, treatment, rehabilitation, plus ongoing support for patients and their families.
At Mercy NeuroScience Institute we:
We have specialized spine and stroke coordinators who work with patients one-on-one to map out a plan of care, rehabilitation and support. They are there to answer questions and connect you with the right people and resources.
If you or a loved one needs stroke, spine, tumor or neurological care, the specialists at Mercy NeuroScience Institute can help.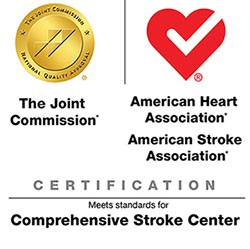 Mercy NeuroScience Institute Specialists
Resources