Mercy's History in Oklahoma City
1884
In 1884, five years before the Land Run of '89, the Sisters of Mercy of Lacon, Illinois, responded to the invitation of Rev. Isidore Robot, first Prefect Apostolic of the Indian Territory, to work with the local Native American tribes. Sister Mary Joseph Shields, Sister Mary Catherine Troy, Sister Mary Cecilia Heron, Sister Mary Aloysius Lonergan and Sister Mary Magdalen O'Connor, all in their 20s, volunteered to make the long trek in a covered wagon into Indian Territory. They crossed raging rivers on horseback, encountered outlaws, escaped quicksand and survived tornadoes. And unlike other orders before them, these five Sisters of Mercy never turned back.
They arrived in Sacred Heart, Oklahoma, previously part of Potawatomi tribal lands, in July 1884. They immediately opened a boarding school for Native American girls called St. Mary's Academy, which later would admit the daughters of white parents as well. Daughters of Pottawatomie, Chickasaw and Seminole tribes all enrolled and the religious beliefs of those who were not Catholic were respected.
1892
When a mine exploded in the Indian Territory town of Krebs in 1892 – the worst mining accident in the territory and state history – the Sisters immediately closed their small school so they could travel from house to house, caring for injured miners and consoling orphans and widows. Like early settlers, the Sisters of Mercy dug in their heels, determined to make a difference in the world around them. 
1903

Eventually, in 1903, the Sisters moved to Oklahoma City to continue their ministry of education.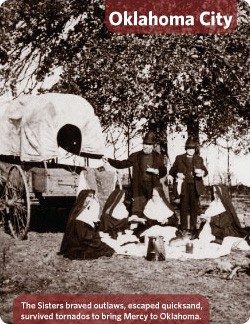 The sisters braved outlaws, escaped quicksand, survived tornados, to bring Mercy to Oklahoma.
1947

In 1947, the Sisters purchased what was then called Oklahoma City General Hospital in downtown Oklahoma City. Prior to that time, health care efforts had been informal, the Sisters responding to needs as they arose.
At their newly-acquired hospital, the Sisters of Mercy made a change that was unprecedented in many parts of the country. Almost two decades before the Jim Crow Laws of "separate but equal" were abolished, the Sisters of Mercy integrated the hospital for all people.
The change came about when a retired African American school teacher suffered a heart attack and his wife asked for a private room. When one of the nurses made a disparaging remark about the man being transferred to her area, the Mercy administrator, with a quiet sense of outrage, "advised the nurse to look for another position because every nurse who wished to continue in the employ of the Sisters of Mercy would need to comply with the philosophy of the hospital—there was to be no discrimination in the care of the sick because of race, creed or color."
2012
In 2012, Mercy Health Center becomes Mercy Hospital Oklahoma City.
2020
Mercy opens a second hospital - Mercy Hospital Oklahoma City South - to serve south Oklahoma City.