Transforming the Health of Our Communities
Our Mercy health system was founded by the Sisters of Mercy in 1986. But our heritage goes back more than 195 years. It began with an Irish woman named Catherine McAuley, who was determined to help women and children in Dublin experiencing poverty. Though Catherine had a modest upbringing, she received an unexpected inheritance that allowed her to fulfill that dream. In 1827, she opened the first House of Mercy in Dublin, intending to teach skills to women and educate children. Many volunteers came to help.
A few years later, Catherine founded the Sisters of Mercy, one of the first religious orders whose Sisters were free to walk among the poor and visit them in their homes. In 1843, the Sisters of Mercy came to the United States. In 1871, they traveled to St. Louis. In the years to come, they would establish hospitals throughout the Midwest. Many of these would join together in 1986 as Mercy.
Learn more about Mercy's Heritage and History. >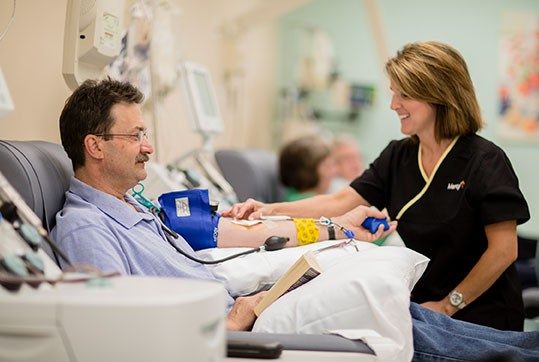 Mercy has physician practices, outpatient facilities, urgent and acute care locations serving patients and families across Arkansas, Kansas, Missouri and Oklahoma.
Our mission statement:
As the Sisters of Mercy before us, we bring to life the healing ministry of Jesus through our compassionate care and exceptional service.
This mission statement is an inspiring reminder of our calling at Mercy. It also unites and directs activities across our entire health and human services ministry.
Our vision statement:
We are the people of Mercy Health Ministry. Together, we are pioneering a new model of care. We will relentlessly pursue our goal to get health care right. Everywhere and every way that Mercy serves, we will deliver a transformative health experience.
Our core values:
Dignity. We cherish each person as created in the image of God.
Excellence. We give only the best for those entrusted to our care.
Justice. We pledge to be in right relationship with one another, with a particular concern for people who are economically poor.
Service. We seek out and put the needs of others first.
Stewardship. We wisely use our talents and resources to strengthen Mercy as a ministry of the Church.
These values guide what Mercy co-workers do and what direction we take. We consider them unchanging. While all five values are important in influencing how we make decisions, dignity is the base on which all the others rest. Because all people are created in the image and likeness of God, each person deserves to be treated with respect. Through our influence, we seek to relieve suffering and address its causes, and support individuals who struggle for full dignity.

Our charism:
 
Charism is a gift of grace freely given by God for the good of others.

Bias for action. We anticipate and respond to need; we get things done.
Entrepreneurial. We have the courage to take risks; we are innovative, seeing what needs to be done.
Hospitality. We are welcoming and accepting, gracious and forgiving.
Right Relationships. We speak our truth with honesty, resolving differences; we hold each other responsible, working together.
Fullness for Life. We have a sense of joy and love of life, even during suffering.
Dignity is the foundational value to Mercy's work. Like the Sisters of Mercy, we strive to be an effective voice for people who are economically poor and the underserved. We also support and work with others in raising their own voices to seek justice and mercy. These principles guide us in evaluating public policy issues:
We're compelled to defend and support people who are underserved; this flows from Catholic social teachings, which we constantly strive to understand more deeply.
We choose to serve in activities that always reflect the dignity and welfare of those we serve, as well as those with whom we minister; these activities are always influenced by our fundamental commitment to people experiencing poverty.
We work toward assuring the rights of each person for those things necessary for the proper quality of life, and we challenge others to join us in assuming responsibility for helping to meet social needs.
We advocate both for the benefit of individuals as well as the common good of the community.
We support and promote the equitable distribution of resources, especially health care resources.
Justice calls us to promote systemic change by working with others in the public and private sectors to address the needs of people who are most vulnerable
Social determinants of health (SDOH) are the conditions in which we are born, live, learn, work, play, worship and age that profoundly impact our health. Among others, they include housing, education, employment and insurance. SDOH account for 80% of a patient's health outcomes, while health care access and clinical care account for only 20%.
At Mercy, we believe everyone should have the opportunity to attain their full health potential, and no one should be at a disadvantage or health risk due to unmet social needs. We're actively working to identify SDOH among our patient population* and to take actions that have tremendous impact on individual health as well as the health equity of the communities we serve.
*Of Mercy's 2.6 million active patients, we estimate 10% of them have unmet social needs and 9% have poorer health outcomes.
One of the critical concerns of the Sisters of Mercy is care for the environment, and we echo that concern. As a major industry in the United States, health care has a responsibility to do everything we can to reduce our carbon footprint, save energy and reuse or recycle materials whenever possible.
At Mercy, we believe in dignity and equity for all. As we pursue our goal to get health care right, we're committed to addressing health disparities in the communities we serve, including hidden barriers to accessing health care, medicine and food. With one of the most advanced electronic health records in the U.S. health care system, Mercy is using the data we've collected to predict health trends among particular populations and eliminate disparities in care.
We actively promote ministry-wide programs that align data for a more complete view of patient needs to help reduce and prevent disparities within our clinic patient population. We're currently working on initiatives that address disparities in the care and service of underserved communities. We're also seeking ways to integrate awareness of health disparities into all our systems of care. Both now and into the future, we're committed to using data to identify patients with the highest social needs and reduce gaps in health outcomes in vulnerable populations. 
Mercy Resources
Learn about careers at Mercy, our history in each community we serve, the advanced technology we offer & more.
Mercy Leadership
Since our founding almost 200 years ago, Mercy has been a ministry committed to service. Our current servant leaders reflect this commitment, each answering the same call to offer health care that's innovative, compassionate and rooted in faith. They now lead Mercy into the future of health care, with a focus on advanced technology that enables us to offer care that's more personal, more efficient and more effective for those we serve.
Meet our President and Chief Executive Officer
Meet our Service Line Leadership
Mercy
Community Health Benefits
Our primary focus is listening to the people of our communities and helping them. Every few years, we conduct community needs assessments to understand how to increase access to healthcare services. Then we develop plans to address the most urgent needs of our underserved communities.
Mercy also provides more than $550 million in community benefits* annually. This includes care for patients who cannot pay & unreimbursed Medicaid costs. Of Mercy's 2.6 million active patients, we estimate that 10% have unmet social needs & 9% have poorer health outcomes. More than 47,000 patients without insurance are currently using Mercy emergency departments as their primary method of health care.
*Community benefit is the actual cost of providing free or discounted care to people who cannot afford and are not eligible for public programs.
Impacting Health in Our Communities
As part of our strategic plan, Mercy is becoming a central and essential component of people's health in each community we serve. We care about the whole person — what each person needs to live an entire, healthy life — and we're working to address the social determinants that create barriers to good health outcomes. We believe what the data tells us: when we help patients meet their social needs, they become healthier and have a higher quality of life.
Learn more about the communities we serve.
Mercy Clinics
In our clinics, we can treat chronic illnesses, diagnose and treat diseases in the early stages, and help prevent suffering and poor long-term outcomes. Across four states, a team of more than 2,400 Mercy primary and specialty care physicians, more than 2,200 advanced practitioners, and supporting staff deliver healthcare services through more than 300 offices.
Mercy Hospitals
Shorter hospital stays, fewer complications and better patient results are just a few metrics used to rank Mercy as one of the nation's top five large health systems in the 2019 IBM Watson Health 15 Top Health Systems study.
Mercy Ministries

Mercy serves various special needs, particularly for low-income patients, in Arkansas, Louisiana, Mississippi and Texas. Mercy ministries include the following:
6th Largest
---
Catholic Health Care System in the U.S.
$8 billion
---
Operating Revenue
$121 million
---
Traditional Charity Care
$381 million
---
Unreimbursed Medicaid
$55 million
---
Other Community Benefits