1875
In early 1875, the Sisters of Mercy came to the South Texas town of Indianola New Orleans. Only a few months later, a severe tropical storm destroyed the town, and the Sisters were forced to relocate to Refugio, Texas.
1894
In 1894, the motherhouse of the Sisters of Mercy of South Texas was moved from Refugio to Laredo, under the leadership of Mother Mary Clare O'Connell. Along with another Sister and a postulant, she established Laredo's first hospital, a 12-bed facility, which Mercy managed until 2003. The Sisters also taught at many schools and established two nursing schools.
2021
Today, the Sisters of Mercy run Mercy Ministries of Laredo. This community outreach ministry includes a primary care clinic, domestic violence shelter and education center. Community outreach workers – known in Spanish as "promotoras" – bring follow-up care to the community's poorest citizens who live along the US-Mexico border and have little or no access to transportation.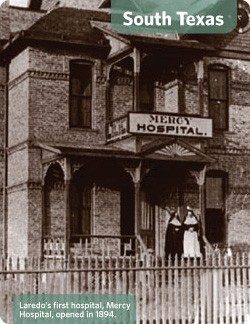 Laredo's first hospital, Mercy Hospital, opened in 1894.