July 12, 2013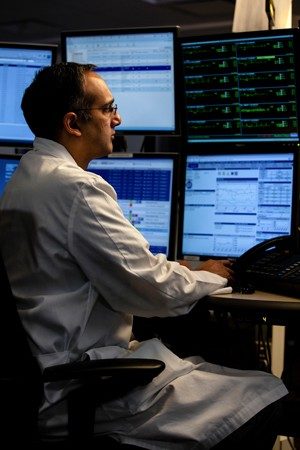 Mercy's Dr. Ashok Palagiri sits at the hub of Mercy SafeWatch, the largest electronic ICU in the nation, that provides 24-hour vigilance to critically ill patients.
Midwest U.S.– Remember when the nurse used to call you back to the doctor's office with a thick paper file in hand? All your medical information – from latest diagnosis to earliest immunization – was contained in that one chart. At Mercy, the paper medical chart has gone the way of the dinosaur. Instead, patients find their entire medical record easily accessible via computer from whichever Mercy office or hospital they're receiving care. From x-ray images to lab reports to patient history – information is instantly updated and fully integrated between all points of care.
Mercy's commitment to creating a robust electronic health record has landed it on the list of the nation's "Most Wired" health care organizations as named by the American Hospital Association (AHA). It's the tenth time in the 15 years the award has been handed out that Mercy has appeared on the "Most Wired" or "Most Improved" list.
"Before Mercy started implementing the electronic health record in 2004, hospitals and clinics relied on a time-consuming system of interoffice mail, faxing and just walking charts over to get them from place-to-place," said Gil Hoffman, Mercy chief information officer. "Nine years and more than $500 million dollars later, going to one Mercy doctor means your medical history is instantly available throughout the Mercy system. Now your Mercy doctors can share data immediately making diagnosis and treatment exponentially faster and ultimately getting the patient on the road to recovery quicker."
"This year's Most Wired organizations exemplify progress through innovation," said Rich Umbdenstock, AHA president and CEO. "The hospital field can learn from these outstanding organizations ways that IT can help improve efficiency."
Beyond improving efficiency, Mercy is using electronic health information to save lives. Case in point – a pilot program at Mercy St. Louis that led to a 28 percent decrease in deaths from septic shock. By building a protocol into the electronic health record for quickly recognizing this bacterial infection, doctors were able to intervene sooner and have significantly better outcomes against an aggressive, often fatal infection.
Big data analytics, like those used in Mercy's sepsis protocol project, was a new area covered by the 2013 Most Wired survey. Only about 5 percent of hospitals that participated in the survey conducted controlled experiments or scenario-planning to make better management decisions.
"We are pleased to be among the leaders in making the information gathered by our electronic health record work for our patients," said Hoffman. "Having the data on hand is great, but being able to use it to save lives is even better."
Hospitals & Health Network's Most Wired survey asked hospitals and health systems nationwide to answer questions regarding their health information technology initiatives. Respondents completed 659 surveys, representing 1,713 hospitals. 17 percent of these hospitals met the qualifications to be named Most Wired.
Mercy is the sixth largest Catholic health care system in the U.S. and serves more than 3 million people annually. Mercy includes 32 hospitals, 300 outpatient facilities, 39,000 co-workers and 1,900 integrated physicians in Arkansas, Kansas, Missouri and Oklahoma. Mercy also has outreach ministries in Louisiana, Mississippi and Texas.
Media Contacts