By Mercy's Madelynn Innes
At a glance, it looks like any other recumbent bicycle. But look closer, and you'll see this unusual form of pedal power allows riders to get moving with their arms – a welcomed solution for those who don't have the use of their legs. 
"For a disabled person, this bike gives us the chance to be active and mobile again – that's something we dream of."
Josh Chrestman knows all too well; before he suffered a spinal cord injury in 2011, he'd been a lifelong athlete and especially enjoyed bicycling. But Josh has held fast to his faith and determination of regaining his mobility. Since his injury, he has persevered through long surgeries and countless treatments at Mercy's Outpatient Occupational Therapy Services. When he learned that his therapist, Lindsi Johnson, is an avid bicycler, he had a welcomed distraction to talk about during treatments that sometimes were painful and exhausting.
During their time together, Josh also expressed his frustration over the lack of a support group in our area. "Independent mobility, mental stimulation and social connections – these are so important, and not something to be given up without a struggle," he said. "There just haven't been that many local resources, however, to give that kind of support to people in wheelchairs."
Rather than accepting the way things are, Josh did something about it, starting the Southwest Missouri Spinal Cord Injury Group. In the last year, it's grown to include as many as 15 participants at monthly meetings.
"We focus on fun, idea sharing and activities for folks, friends and family of people who are paralyzed," he said.
On the group's wish list of items they wanted to raise enough money to purchase was a recumbent handcycle. Just last month, that wish came true when Mercy's Medical Supply gave it to them.
"Rather than keep it as a demo, we decided to donate it," explained Medical Supply's Executive Director Todd Twigg. Medical Supply Analyst Aaron Kellogg gladly took the lead in coordinating efforts to find the best candidate for their donation. "I started with an email to Mark Kastner, since he's the captain of the Mercy cyclists who ride Bike MS every year," Aaron said. "Mark forwarded our inquiry to his team members, and Lindsi shared it with Josh."
"When I saw the email, I couldn't wait to talk to Josh about it," Lindsi said. "With everyone's help, it worked out just the way we hoped," Todd added.
As news of the donation spread, others wanted to help. Mercy's Injury Prevention donated four cycling helmets, and the Co-worker Store provided three Mercy semi-professional cycling team jerseys.
Now that members have a chance to try out the handcycle, Josh says he's encouraging them to participate in community rides as soon as possible. "This is such a wonderful gift – our members will have the chance to participate. That's what it's all about."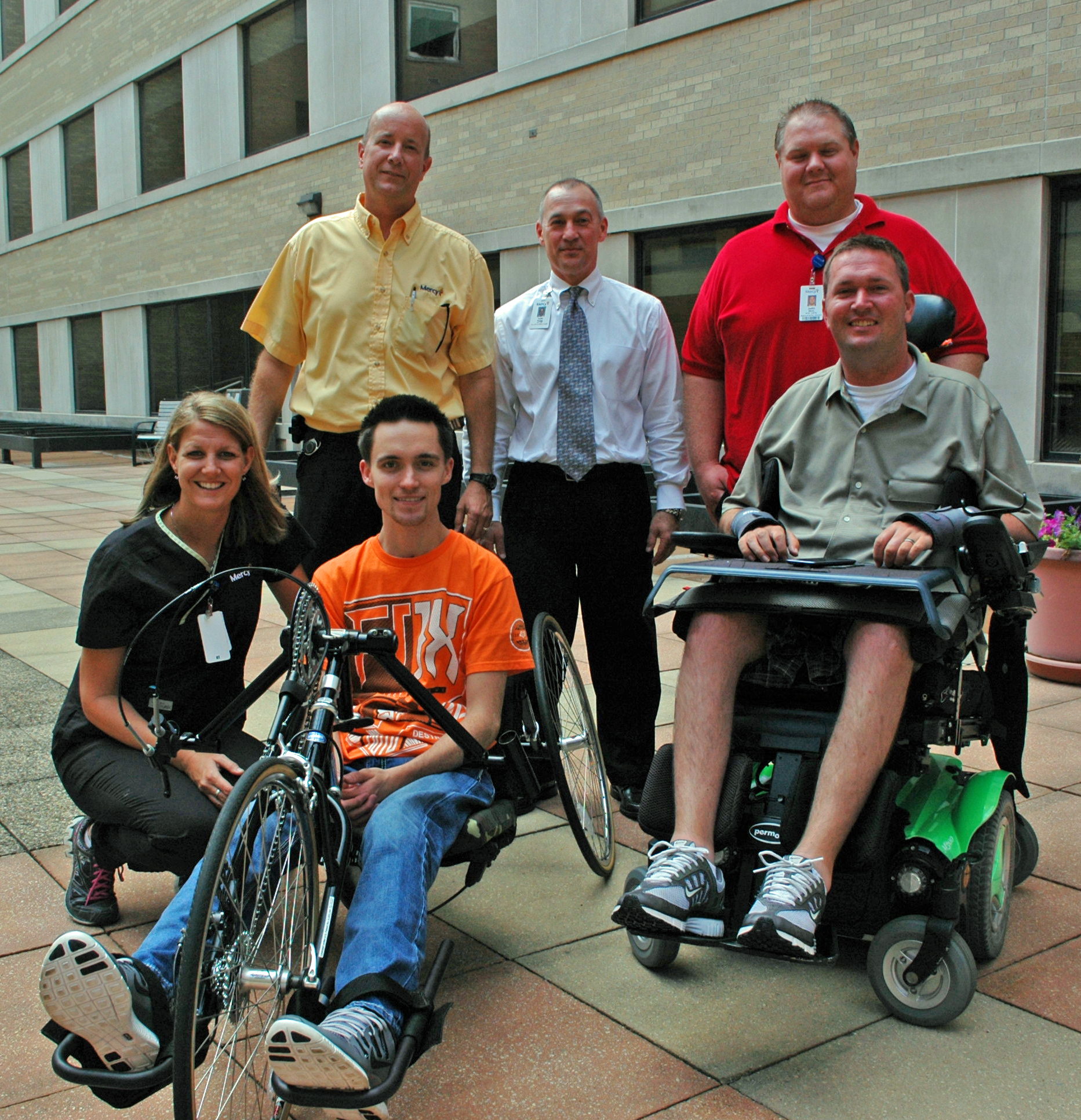 Last month, Medical Supply donated this 27-speed Excelerator XLT PRO Hand Cycle to Southwest Missouri Spinal Cord Injury Group. Representing the group are Josh Chrestman (front right) and Jeremy Edwards, along with Medical Supply  staff members (back from left) Paul Smith, Todd Twigg, Justin Horn and Mercy therapist Mindy Smithwick.