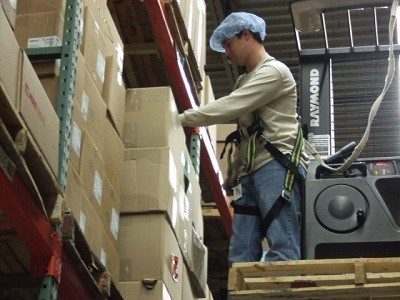 Mercy co-worker unloads items at ROi warehouse.
The 2015 ranking places Mercy at No. 5 among global manufacturers and health care providers, and makes us the only health care provider to be recognized in the top 10 every year since the ranking was established in 2009.  The Gartner analyst report highlighted Mercy's development of a perioperative dashboard for improved analytics, citing "perhaps most interesting to watch in the coming years will be how Mercy's leadership in advanced analytics and virtual care play out."
In addition, Gartner acknowledged Mercy and ROi's strategic supply chain partnership with Baton Rouge, Louisiana-based Franciscan Missionaries of Our Lady Health System (FMOLHS), as an example of provider collaboration in supply chain. Earlier this year, through a strategic supply chain partnership with ROi, FMOLHS opened its first consolidated services center, known as Logistics One. The Logistics One supply distribution center is a 125,000-square-foot facility owned by FMOLHS and operated by ROi, serving five hospitals and other health care organizations across Louisiana.
"Together, Mercy and ROi have spent the past decade building an integrated supply chain model in health care that places control in the hands of providers to achieve clinical, operational and financial improvements," said Gene Kirtser, president and CEO, ROi. "We are honored that Gartner and our peers continue to recognize Mercy, while at the same time acknowledge our growing partnerships with fellow providers like Franciscan Missionaries of Our Lady Health System to share best practices, elevate the strategic role of supply chain and make a positive impact on the future of health care."
Click here to see the complete list of the supply chain top 25 and learn more about Gartner's ranking system.