ST. LOUIS - Quality honors continue to stack up for Mercy, this time for its Hyperbarics and Wound Care – Studt Road, which received accreditation from the Undersea an Hyperbaric Medical Society (UHMS). The accreditation shows the facility has met or exceeded the highest standards of care and patient safety through rigorous evaluation of operations, including equipment, staff and training to ensure quality is maintained.
Hyperbaric oxygen therapy involves the use of medical oxygen administered in a pressure chamber at levels higher than atmospheric pressure. This pressure helps oxygen dissolve more rapidly into the blood, advancing its absorption into damaged tissues to promote healing of certain wounds, damage of tissue and bone from radiation therapy and other illnesses. A well-maintained chamber and trained support staff are essential in the daily operation of this important treatment.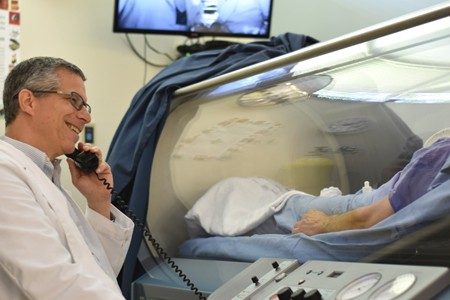 Dr. David German talks with a patient in the hyperbaric chamber.
"Patients trust us with their care," said Lisa Hezel, nurse manager of Mercy Hyperbarics and Wound Care. "This accreditation highlights our continued focus on providing the highest quality care. We're proud of the whole team for earning this significant achievement. Being the first hyperbaric center in the St. Louis area with this accreditation proves that we put safety and quality first."
Participating in the UHMS accreditation program is voluntary and takes months of preparation. Mercy's team of physicians, safety director, nurses, technicians and management worked together prior to the accreditation survey to ensure compliance with UHMS-related standards of practice and safety measures. The survey team who visited our facility consisted of a physician, nurse and technician, all of whom specialize in hyperbaric oxygen therapy. Although their role included detailed queries, they came as colleagues in a specialty committed to success in achieving the highest standards in quality of care and safety for patients. The UHMS and its accredited facilities share the vision of helping facilities succeed in the field of hyperbaric medicine.
"Only through the hard work of all members of our team, including six physicians, nine nurses, patient care technicians and medical secretaries are we able to provide this level of care and be recognized with accreditation by the UHMS," said Dr. David German, Mercy Hyperbarics and Wound Care medical director. "The accreditation has been awarded to less than 20 percent of the nearly 1,400 currently standing hyperbaric facilities nationwide." 
Mercy Hyperbarics and Wound Care specializes in treating difficult wounds that have not responded to traditional treatments. Conditions often treated include diabetic foot ulcers, radiation therapy wounds, pressure ulcers and non-healing surgical or complicated wounds. For more information, please click here.
For more information about the UHMS and why accreditation is important visit uhms.org.
Mercy, named one of the top five large U.S. health systems in 2017 by Truven, an IBM Watson Health company, serves millions annually. Mercy includes 44 acute care and specialty (heart, children's, orthopedic and rehab) hospitals, more than 700 physician practices and outpatient facilities, 40,000 co-workers and more than 2,000 Mercy Clinic physicians in Arkansas, Kansas, Missouri and Oklahoma. Mercy also has outreach ministries in Arkansas, Louisiana, Mississippi and Texas.