CRYSTAL CITY, Mo. - David Christian has been back in the rehab gym at Mercy Jefferson this year and said it reminds him of the time he spent on the treadmills and track 12 years ago, after he spent his Thanksgiving holiday in the hospital.
"I have so much to be thankful for, and I am reminded each year at this time," Christian said. "Twelve years ago I was just running out of steam. I had no endurance, no stamina. On the Sunday before Thanksgiving, Jill brought me to the ER, and they decided to keep me overnight."
On Monday, he was scheduled for a stress test and had open-heart surgery the next morning.
"On Tuesday, I had four-way bypass surgery. I celebrated Thanksgiving in the hospital," he said. "My recovery ever since has been good. I have come along just fine."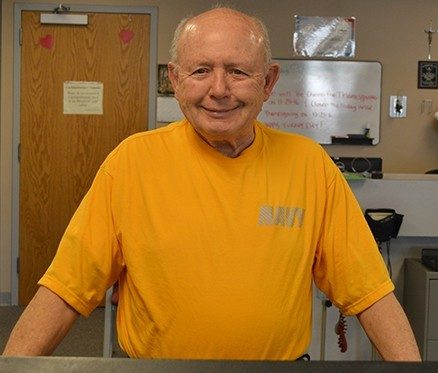 Twelve years ago, Dave Christian spent Thanksgiving Day in the hospital.
A U.S. Navy veteran with more than four years of active duty and 23 years in the Reserves, Christian has been active in veteran affairs. He is a member of the VFW and American Legion Post 1 in St. Louis. He also worked with the committee establishing the Veterans Memorial at the Jefferson County Courthouse.
In March of this year, the 82-year-old took being active a few steps too far. He had propped his ladder against a tree in the backyard and cut off a "limb I didn't like," he said. About six feet from getting back to the ground, the ladder shifted and he fell, crushing his right ankle and a lumbar vertebra.
That accident has had him back in the rehab gym. He works three days a week on walking without a limp. He will get to spend Thanksgiving at home with his family and always be thankful for the care of the physicians, nurses and therapists at Mercy.