February 22, 2018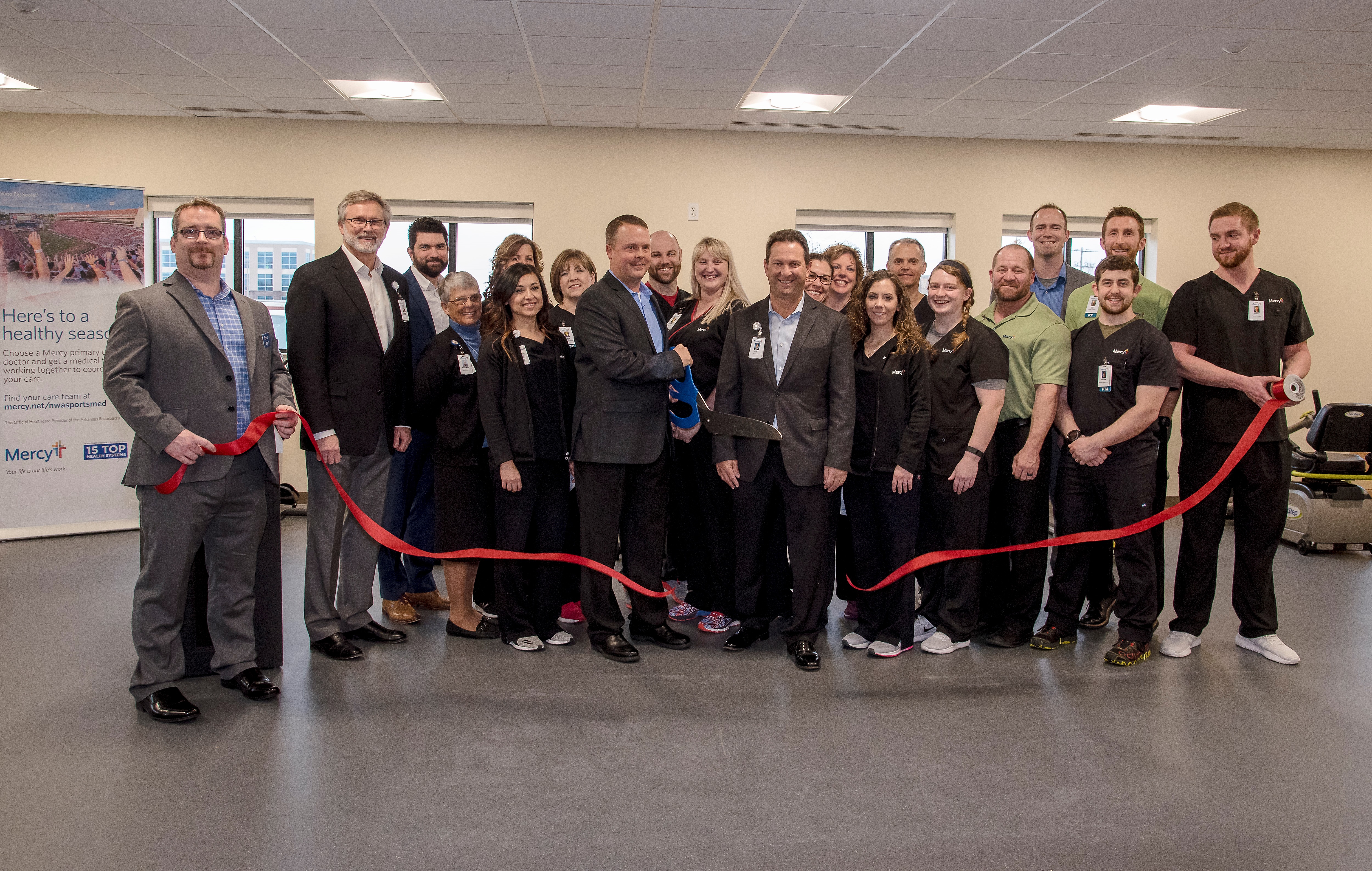 Mercy celebrated the quadrupling of space at Mercy Therapy Services with a blessing and ribbon cutting Feb. 21.
Totaling nearly 10,000 square feet, Mercy Therapy Services houses 11 providers, including six physical therapists, who can help patients recovering from surgery, injury or illness. The space was renovated to add new treatment areas and equipment, wide open exercise spaces and curtained treatment rooms for individualized therapy.

"Now we have this shiny, sparkling new space, and we have the ability to care for more patients in a way that doesn't feel like they're on top of each other," said Joe Manthe, Mercy's director of therapy services.

Mercy Therapy Services previously occupied about 2,500 square feet in the building at 1101 S. Horsebarn Road, which was shared with Mercy Clinic Orthopedics. (Orthopedics is now located in a new clinic around the corner at 1000 S. 52nd St.) Mercy hopes to maintain a feeling of camaraderie patients developed while receiving therapy in the relatively cramped space, Manthe said.

"There's a community feel because they're all going through the same things and patients can encourage each other," he said. "At the same time, there are a lot of options and private areas we can utilize."

Mercy's group of skilled therapists working at three locations include 17 physical therapists, 12 physical therapist assistants, two occupational therapists and three speech therapists in addition to multiple part-time therapists and those who serve on an as-needed basis. The two other Mercy Therapy Services locations are at 24 Sugar Creek Center in Bella Vista and at 3101 S.E. 14th St. in Bentonville.

Mercy's Community Presence Plan aims to increase access to care across the region and expanding Mercy Therapy Services on Horsebarn Road is an important part of that, said Jason Wildeman, Mercy's vice president of outpatient services. 

"Patients are going to see a really cool transformation. It doesn't look like the same place. They'll be pleased," he said.

Future plans for Mercy Therapy Services on Horsebarn Road include adding occupational therapists and speech therapists. In the meantime, those services are available at the Bella Vista and Bentonville locations.
Media Contacts