His status as a former professional athlete and amateur baseball hall of fame member – with a fitness level that allows him to run up and down the basketball court with high school athletes – could not protect Pat Bone from a "widowmaker" heart attack last summer.
His faith and his infamous competitive nature pulled him through. Now he is back on the hardwood and on a crusade to spread the message of heart health.
After a weekend of fun and food at the Lake of the Ozarks in early June, Pat and Patty Bone were back in their Festus home.
"I was thinking it was just indigestion. Maybe we overdid it a little, 18 holes of golf, riding jet skis. I just wasn't feeling right," Pat Bone said.
He was driving to the store when he told Patty, "something's not right." He pulled over, and they switched spots in the car. As he walked to the passenger side, he thought he was going to lose his balance and fall, but he managed to get to his seat. Patty drove him to the Emergency Department at Mercy Hospital Jefferson, but they only made it to the parking lot.
"Being the con man that I am, I convinced her that I was fine," Pat Bone said. They returned home, but the next day he still wasn't feeling better. When Patty called him from work, she told him to either get an appointment with his primary care physician, or she was coming home to take him to the ER again.
He called Mercy Clinic Family Medicine Jefferson and arranged an appointment with Gokul Budati, M.D., that day. In the doctor's office he had a physical exam, and Dr. Budati suggested an EKG based on Pat's description of his situation and his family history of heart disease.
"The next thing I know, the nurse came in with four aspirin, and Dr. Budati told me I was going to the Emergency Department," Pat Bone said.
His left anterior descending coronary artery – the widowmaker – was 100 percent blocked. Interventional cardiologist Bassem Mikhail, MD, was called to the cardiac catheterization lab to clear the occlusion and place a stent in the artery.
"That's when I realized this is serious. It's time for me and Jesus to have a little conversation," Pat said. "I asked one simple thing. I told him, 'Jesus, if you want me to come home, I'll do it. But if you allow me to stay, I will gladly live the life you want me to lead.' So we went from there. Twenty-two minutes later, there I was, in recovery trying to fight through that."
During recovery following his procedure Pat asked Dr. Mikhail if he would be able to return to his part-time basketball referee job in the fall. He had a Nov. 17 season-opening tournament he wanted to make.
"Dr. Mikhail was very firm, 'Yeah, you will make that," Pat said. The doctor advised Pat that his recovery was up to him.
"Patty and I started walking at the high school track. At first it was just two laps around the track, half a mile, and it was tough," Pat said. "But I was going to make it back for that first game."
He made some changes in his diet, and adjustments in medications with Dr. Mikhail until the daily walks became easier and their trips around the track were replaced by walks around town. Then he added a little running and bleacher steps to his training regimen.
"I had lost about 20 percent of my heart function because of the heart attack, and Dr. Mikhail said he wanted to build back at least 10 percent of that through rehab," Pat said. "When I went back for my three-month follow up, I had gained all 20 percent back."
The first real-life test came at that basketball game on Nov. 17. He had baby aspirin and a nitroglycerine tablet in his pocket just in case.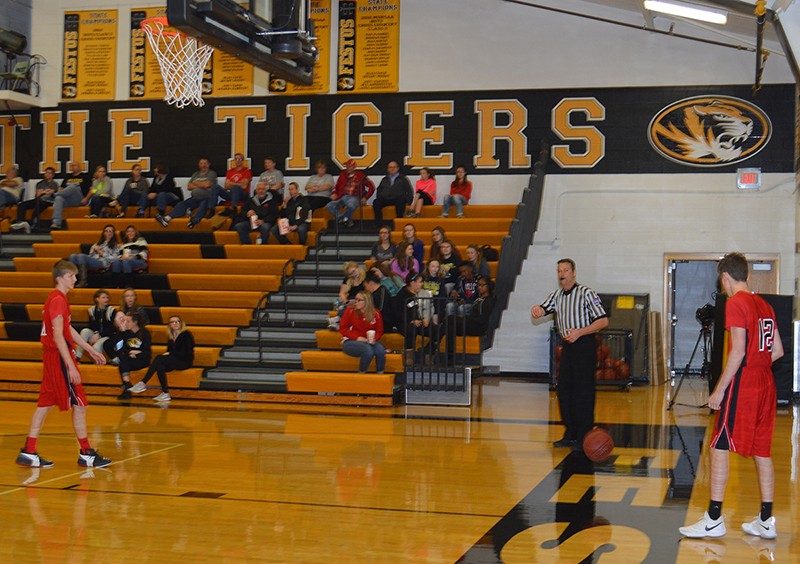 Back on the hardwood for a game between Festus and Crystal City, Pat Bone says he doesn't think about his heart when he's on the floor, but he always has his baby aspirin and nitro tab in his pocket just in case.
"It was just that kind of childish excitement to go back out on the court. It was like that first time in seventh grade when I got on the floor at Crystal City School," he said. "I was pretty emotional after it was over."
Now he's back to running up and down the floor several nights each week, keeping up with kids 40 years younger than him. Even though he has his baby aspirin and nitro tab in his pocket for to every game, he is able to focus exclusively on the action and not have to worry about his heart.
His overall fitness level may have been helpful in his recovery, but it wasn't enough against a family history of heart disease. Nearly all of his relatives on his mother's side, back to his great-grandmother, have died from heart disease or now survive with a pacemaker or stent.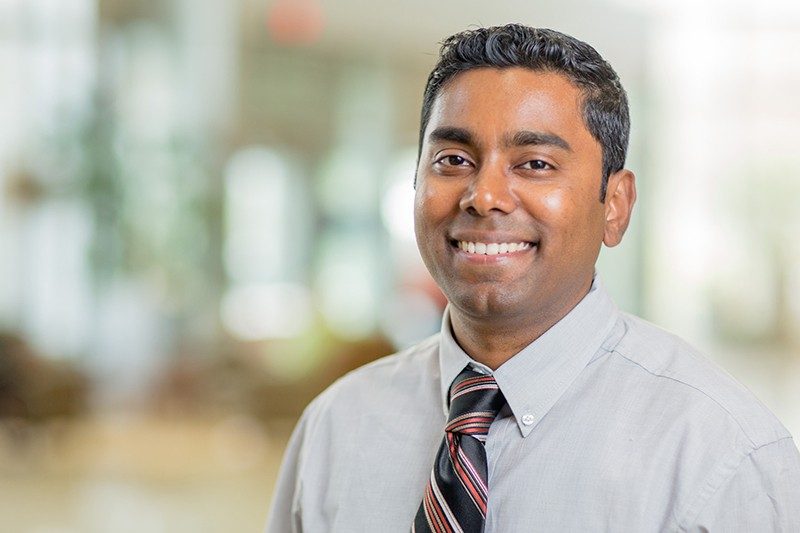 Pat's primary care physician Gokul Budati, MD, emphasizes prevention and knowing your family's medical history.
Dr. Budati said it is important for the patient and their primary care physician to know that history.
"As a family practitioner, I emphasize prevention. Knowing your personal and family's health history, getting to know your cholesterol levels, kidney, and liver function can help to identify your risk for heart problems and get you on right treatment to lower risks in future," Budati said. "For people who already have heart problems, we can help to reduce the risk for future events."
By having an established patient relationship, Mercy Clinic was able to get Pat in the same day he called and assess his situation based on his history and description of how he was feeling.
"People have tendency to downplay their symptoms. A primary care physician, who knows you as a person, is aware your medical history and risk factors," Budati said. "As an established patient, Mr. Bone was able to get a same-day appointment when he needed it. We were able to identify the problem and get appropriate help for him. Now, he is back on field, and back to the games he enjoys."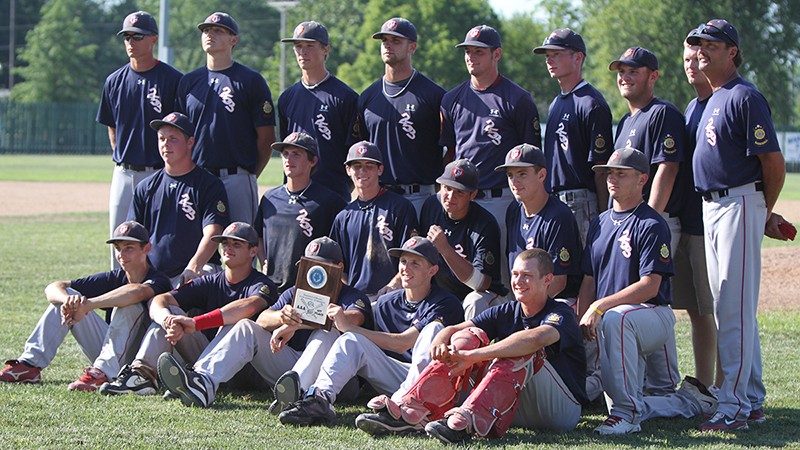 A former player in the New York Yankees organization, Pat Bone, retired from coaching the American Legion Post 253 baseball team after winning a third consecutive state championship in 2011.
A former professional athlete, Pat spent several years in minor league baseball after being drafted by the New York Yankees in 1981. Following his playing career, he returned to the Festus and Crystal City area where he grew up and began a 21-year stint as head coach of the American Legion Baseball program. During his tenure, Post 253 won five state championships and advanced once to the Legion World Series. He was inducted into the St. Louis Amateur Baseball Hall of Fame in 2015.
At 58 years old, Pat has a lot of living to do including his work in special education at Senn-Thomas Middle School in Herculaneum. He also has developed a passion for living and educating others about the dangers of heart disease. Most of all to know your family history and be proactive if you believe you have heart attack symptoms.
Dr. Budati offered these guidelines for patients who think they may be having a heart attack or if they are trying to convince themselves they are not having a heart attack.
"The best first step is to take 4 tabs of 81 mg baby aspirin and call 911 or seek urgent medical attention," Dr. Budati said. "It is difficult to diagnose a heart attack without appropriate blood work and EKG. The time from onset of symptoms to getting the right treatment is critical and determines outcome. The longer you wait, the more damage you could do to the heart."