Chaplain Alan Amos was selected as the winner of the quarterly Sunshine Award at Mercy Hospital Jefferson. Similar to the Daisy and Tulip awards, which recognize extraordinary service by nurses, techs and assistants, the Sunshine Award has been established to honor co-workers in any other category.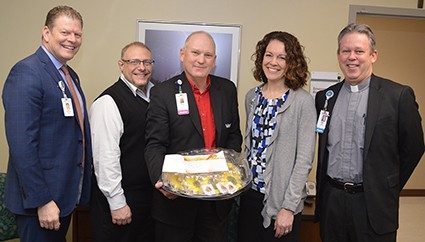 Chaplain Alan Amos was selected as the quarterly Sunshine Award winner at Mercy Hospital Jefferson for his work with patients and families.
Alan was nominated by the Care Management staff with a letter written by Elizabeth Powell, RN, CM, and Jennifer Skaggs, BSW.
Care Management works with Chaplain Amos closely with many difficult patients. We would like to nominate him because we have seen him and talked with him about numerous, difficult-to-handle patients. He works tirelessly to assist patients and families to come to terms with many end-of-life and life-changing decisions.
Chaplain Amos has a way of speaking candidly to the patients and families during these difficult situations to make critical decisions. These families need to hear the truth and feel good about their choices. Chaplain Amos has the medical knowledge and background to explain appropriately and lovingly to the families.
We personally have seen Chaplain Amos spend many hours with families to find answers and solutions to their problems. For example, he spent many hours with a family and assisted with end-of-life decisions. He provided emotional support and guidance. He continued to follow up with this family to provide assistance each time the patient was admitted.
The list of difficult patients is endless, and he is always willing to help without hesitation. The support he provides is exceptional. We appreciate everything he does for our patients and families. We would like to see him be acknowledged for all the good he does on a daily basis.