With a few flashes of chrome and that familiar Harley-Davidson rumble, a benevolent group of local riders rolled into to Mercy Jefferson on Saturday, August 25, with a check for $9,130 to provide for babies who arrive with special needs.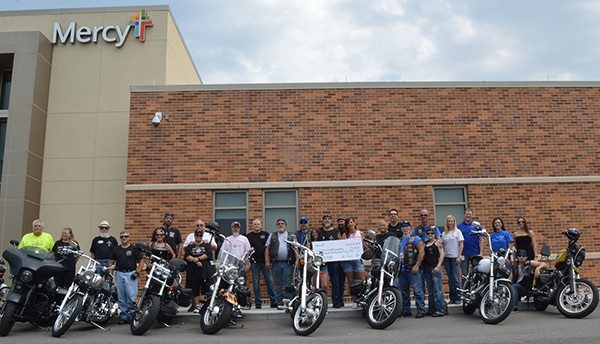 Babies Born Addicted, Rally Against Heroin from the Cedar Hill Elks Club, and the Gateway Knights Motorcycle Club joined forces to help the Childbirth Center at Mercy Jefferson purchase items from their wish list specifically for babies who are born to mothers with substance abuse disorders.
In the first six months of 2018, 15 babies born at Mercy Jefferson required withdrawal screening, said Kelly Branscum, nurse manager at the Childbirth Center. That represents about 6 percent of the 250 babies born at the hospital in the first half of this year.
Among the wish list items are swaddle blankets, special T-shirts that allow skin-to-skin contact, positioning pillows, rocking chairs, and special baby swings for the hospital that requires disposable covers. Personal touch from caregivers is most important.
"Babies can have tremors, irritability, sleep problems, and can be poor feeders," Kelly said. "Our nurses provide close physical contact when Mom can't. The babies need rocking, love and a lot of patience."     
Kelly Branscum, Mercy Jefferson President Eric Ammons, Mercy Health Foundation Director Andrew Held, Development Coordinator Lauren Hubbard and Foundation Board member Sara Govero accepted the donation on behalf of the babies in need.
"The generosity and support of these groups has been overwhelming," Andy said. "We are very thankful for their partnership and commitment to the babies, mothers and all the residents of the Jefferson County community."