January 31, 2019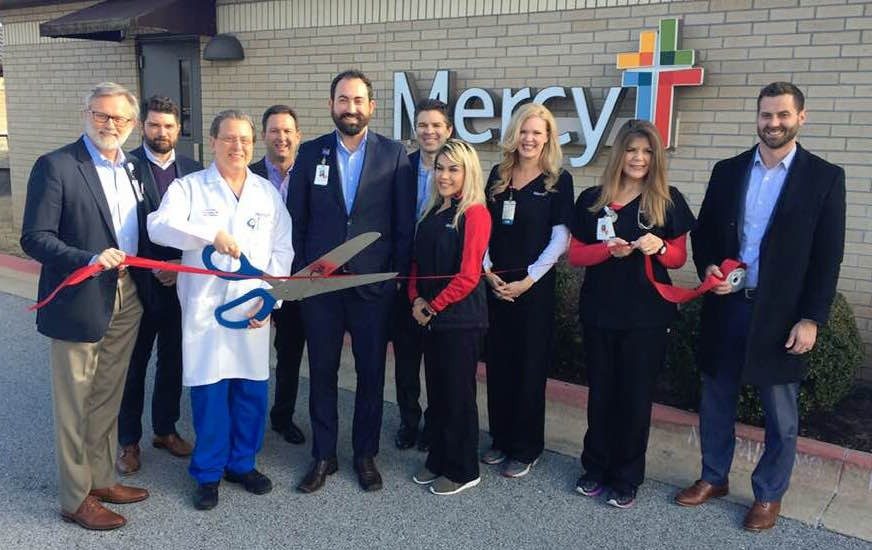 Ribbon-cutting at Mercy Clinic Occupational Medicine, 1101 S. Horsebarn Road in Rogers.
Mercy celebrated its newest clinic Thursday with a blessing and ribbon-cutting at Mercy Clinic Occupational Medicine. Dr. David Sitzes, who is board certified in family medicine, heads the clinic at 1101 S. Horsebarn Road in Rogers.
"Our aim is to get injured employees back to their lives and jobs as quickly as possible," Dr. Sitzes said. "It's very gratifying to be able to help people heal and to help them and their employers understand how to prevent future mishaps."
The clinic offers comprehensive care and excellent communication to companies seeking to reduce the incidence and impact of job-related injuries.
Some of its services include:
·        Prompt and appropriate treatment, should injuries occur.
·        Quick, safe return to work process for employee and employer.
·        Compliance with industry safety standards.
·        Worksite assessments and education to prevent job-related injuries.
·        Pre-employment and Department of Transportation physicals, DOT and non-DOT urine drug testing and audiometric screening and monitoring
Dr. Steve Goss, president of Mercy Clinic, said the clinic can help employees thrive in a safe and healthy environment.
"Mercy will be your partner in anticipating workplace issues and providing care when employees do suffer injuries," Dr. Goss said. "We can also tailor our services to meet the unique needs of each employer as they cultivate a healthier, more productive workforce."
Mercy Clinic Occupational Medicine is housed in an office suite alongside Mercy Therapy Services. Renovation of the occupational medicine space totaled about $220,000.
The clinics are part of Mercy's ongoing $277 million expansion in the region that includes the addition of a seven-story tower to the Rogers hospital and a large multispecialty facility in Springdale. Both the tower and multispecialty facility are projected to open in August.
Mercy, named one of the top five large U.S. health systems in 2018, 2017 and 2016 by IBM Watson Health, serves millions annually. Mercy includes more than 40 acute care and specialty (heart, children's, orthopedic and rehab) hospitals, 800 physician practices and outpatient facilities, 44,000 co-workers and 2,100 Mercy Clinic physicians in Arkansas, Kansas, Missouri and Oklahoma. Mercy also has clinics, outpatient services and outreach ministries in Arkansas, Louisiana, Mississippi and Texas. In addition, Mercy's IT division, Mercy Technology Services, supply chain organization, ROi, and Mercy Virtual commercially serve providers and patients in more than 20 states coast to coast.
Media Contacts