Mercy Hospital Lincoln RN, Jackie Gray is described by her nominator as not only having anticipated the needs of her patients, but also creating a personal connection with them. On July 1, she was honored with the DAISY Award for her servant heart. Her nominator wrote:
"Jackie exceeds the criteria for the Daisy Award. She could anticipate the needs of not only me, but other patients on the floor. I saw her walking the hallway, talking to others and offering encouragement. From the first time she walked in, I felt a personal connection. Since I had been transferred to another floor, all my family had left. Jackie gave me emotional and spiritual support, as well as physical. Mercy should be proud to have such a dedicated employee."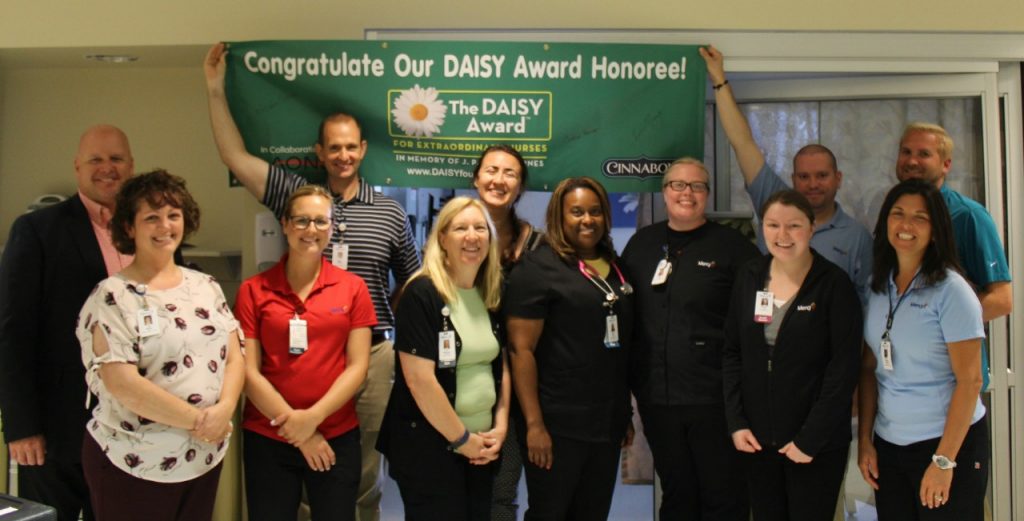 Jackie Gray, RN, ICU, (center) is surrounded by co-workers who presented her with a DAISY Award at Mercy Hospital Lincoln.
The DAISY Award is an international program to honor and celebrate nurses who provide extraordinary, compassionate and skillful care every day. The DAISY Foundation established the award in memory of Patrick Barnes who died at age 33 from complications of an auto-immune disease. The care he and his family received from nurses while he was ill inspired the award. Each month, Mercy Hospital South nursing leaders choose an award winner for their facility.