Cancer patients in Jefferson County got a boost thanks to the generosity of longtime, local businessman and real estate developer Clyde "Skip" Johnson who donated $50,000 to Mercy Health Foundation Jefferson to create the Becky Johnson Memorial Fund. Skip is a former business partner and longtime friend of Mercy Hospital Jefferson Board member, Bill McKenna.
Skip and Florence Rebecca "Becky" Johnson were high school sweethearts and were married for 58 years. She was diagnosed with multiple myeloma, and after a six-year battle, she passed away in March 2018.
"Mercy Health Foundation and Mercy Hospital Jefferson are extremely grateful to Mr. Johnson for his generous support and commitment to the Jefferson community," said Andrew Held, Executive Director of Mercy Health Foundation.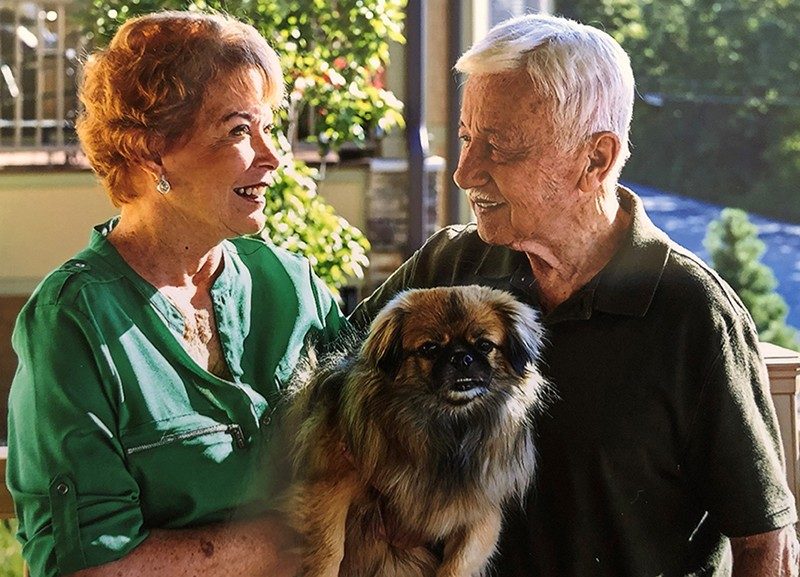 Skip Johnson donated to the Mercy Health Foundation Jefferson to establish the Becky Johnson Memorial Fund to support cancer patients at Mercy Hospital Jefferson.
Skip and Becky and their business, Tiara Properties, came to this community in 1980 and developed more than a dozen major subdivisions in the Jefferson County area. In addition to helping build communities within the county, Skip was an influential business leader. Becky's passion was showing dogs for more than 40 years locally and throughout the country.
"The Jefferson community has been so good to me and my family over the years I wanted to give back to this great community," Skip Johnson said.
The gift was designated to support the work of Nurse Navigation at Mercy Cancer Center Jefferson. The program ensures that all patients and their families have a specially trained, clinical guide to help them throughout their cancer journey. Johnson said he wanted patients to get the same care and compassion Becky received during her battle with cancer.
A cancer navigator is an oncology-certified, registered nurse who coordinates with the entire care team, as well as the patients and their families, to provide timely screening, diagnosis, treatment and support services.
"I hope that this gift will inspire others to give too," Johnson said. "It's the cumulative giving effect of many that makes the greatest impact."
The Becky Johnson Memorial Fund will help build and grow the Nurse Navigation program at Mercy Hospital Jefferson and help patients get the care that they deserve and require.
Through collaborative partnerships, Mercy Health Foundation impacts the flourishing of our communities by inviting into our ministry those who have a passion to improve quality of life and make care accessible for all.
For more information about Mercy Health Foundation Jefferson or to make a gift to the Becky Johnson Memorial Fund please contact Andrew Held at 636-933-1603 or visit www.mercyhealthfoundation.net/Jefferson.