CHESTERFIELD, Missouri - Mercy Rehabilitation Hospital St. Louis, a partnership between St. Louis-based Mercy and Kindred Rehabilitation Services, was recently named a recipient of the Midwest Excellence Institute's 2019 Missouri Quality Award, modeled after the prestigious Malcolm Baldrige National Quality Award.
"We are on a journey to excellence and continuous improvement," said Jerry Rumph, Mercy Rehabilitation Hospital CEO. "The receipt of the Missouri Quality Award validates the dedication and commitment of our co-workers to care for people of all abilities and help them achieve their highest level of wellness and independence. We know exceptional care is more than rehabilitation and medical care; it's about restoring hope, and how we choose to care for our patients and each other."
Applicants for the Missouri Quality Awards ("MQA") participate in a thorough and objective educational process to learn and apply quality implementation techniques and assessment methods. The criteria for the MQA set a common standard of excellence for all organizations and are the basis for granting the awards and providing feedback to applicants.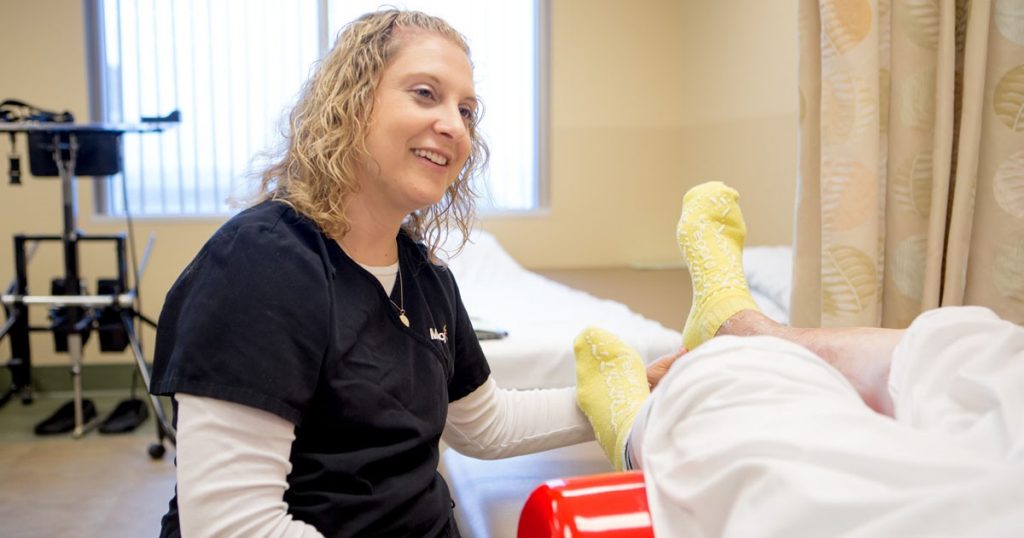 A physical therapist helps a patient during rehabilitation.
Since 1992, 77 organizations have received the award and have been regarded as role models for successful quality strategies. Through their willingness to help others, the Missouri Quality Award recipients have encouraged other organizations to undertake their own quality improvement efforts.
"Mercy Rehabilitation Hospital St. Louis began their Missouri Quality Award journey only two short years ago, but they quickly applied the principles and core values of the Baldrige Excellence Framework across the organization," said Sherry Marshall, Midwest Excellence Institute chief executive officer. "Their commitment not only to patients/families, but also to staff, physicians, suppliers, and partners reflects Mercy's Call to Action to Restore Hope in how patients receive care. As a 2019 Missouri Quality Award winner, Mercy Rehabilitation Hospital St. Louis represents the best of Missouri businesses."