Happy, a stuffed bunny belonging to Cameron, recently had an exciting trip when he visited the Mercy Children's Hospital St. Louis with his boy. He came along to help Cameron feel less anxious before his surgery.
All went well with the surgery and Happy did his job. However, on the way out of the hospital, Happy hopped out of the bag to inspect the parking garage and got left behind.
"We didn't realize Happy was missing until we got home," recalled Christine Romstad, Cameron's mom. "Over the weekend, we talked about calling the hospital to report the lost bunny even though we figured it wasn't likely he would be turned in."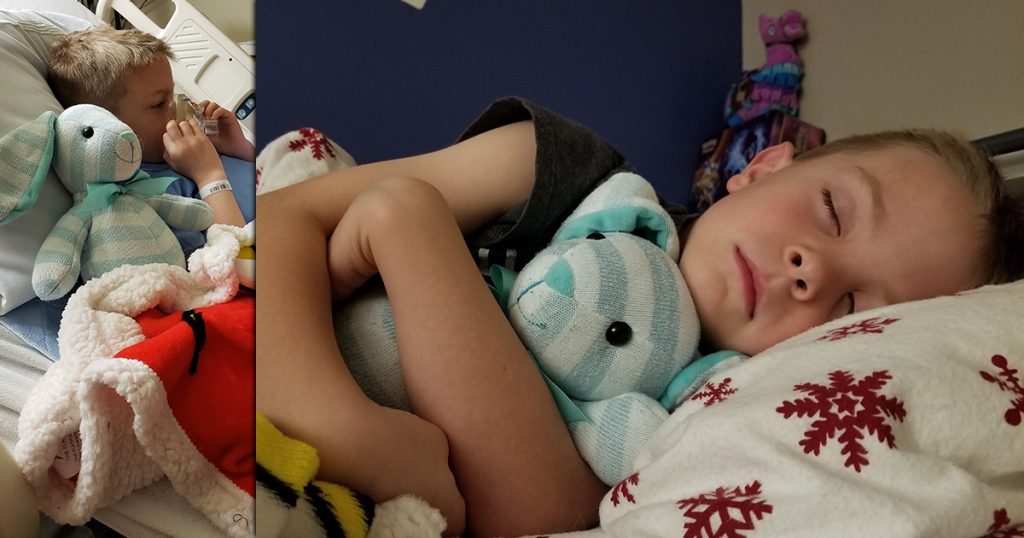 Happy kept Cameron company before his surgery and after an adventure in the parking garage he is back at home safely in his boy's arms.
Before the Romstads reached out, they got a call from Cameron's nurse Debbie Lenon. Her shift ended shortly after Cameron's discharge and as she walked to her car she spotted Happy.

"She spent several hours with Cameron and Happy that day and knew exactly who Happy belonged to," Christine said.
Happy, who was dirty and wet from his adventure in the garage, went home with Debbie to have a bath and get cleaned up before returning good as new to Cameron.
"It was so thoughtful of her and I can't believe how fortunate it is that my son's nurse was the one who walked by and saw Happy," Christine commented. "Debbie is a kind soul and is totally in the right job. What she did might seem like such a small thing -- but sometimes the smallest gesture (like finding and taking care if a patient's stuffed bunny) is a really big deal."