Dr. Karthik Iyer's leadership has been well documented at Mercy Jefferson, and now he will earn recognition on a national level when the Catholic Health Association welcomes him as a member of the 2020 Tomorrow's Leader class.
The annual award recognizes high performing individuals, ages 40 and under, who are currently working in a Catholic health ministry. Dr. Iyer will receive his award at the Catholic Health Assembly on June 8 in Atlanta, Georgia.
Dr. Iyer, 39, was named Chief Medical Officer at Mercy Jefferson in December 2019, after his nomination for the award was submitted. He also serves as section chair for critical care for Mercy Clinic Jefferson.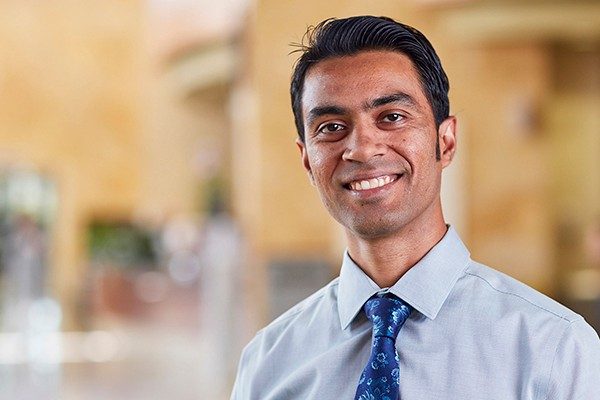 Dr. Karthik Iyer has been selected as a member of the Catholic Health Association Tomorrow's Leaders Class of 2020.
Born in Mumbai, India, Dr. Iyer attributes his dedication to medicine and healing to his mother, who lost a child prior to his birth. After receiving training in large metropolitan areas in India, then in New York and St. Louis, Dr. Iyer arrived at Mercy Jefferson as one of the first hospital nocturnists.
He established Code Hour One at Mercy Jefferson working cooperatively with the Emergency Department, nursing leaders, and Mercy Virtual vSepsis program to improve treatment response times and reduce patient mortality rates.
Following the pattern established for Code Hour One, Dr. Iyer has been instrumental in the implementation of a new program called RESCUE, designed to improve lives of patients diagnosed with Chronic Obstructive Pulmonary Disease (COPD).  
In July 2019 Dr. Iyer joined the Mercy Jefferson Board of Directors as a physician representative. He also serves as a member of the Mercy Virtual Quality Committee, providing oversight for clinical safety and quality across all virtual care venues.
As a father to three children, Dr. Iyer hopes to pass on the devotion to family that his parents instilled in him. In addition to his 10-year-old son, he is the father of 5-year-old twins who were born at 28 weeks and spent the first two months of their lives in the NICU. This experience, along with one of the twins' continuing medical issues, helps Dr. Iyer be more understanding and compassionate with the patients and family members under his care.
Mercy Clinic Family Medicine - Jefferson physician Dr. Ray Weick was honored by the Catholic Health Association as a member of the Tomorrow's Leaders class of 2015.