As the world continues to make unprecedented decisions related to the novel coronavirus (COVID-19) illness, Mercy is moving quickly to make changes as well. We will be transitioning processes in our Mercy clinics and hospitals to protect our patients and caregivers.
Emergency Department Triage
Mercy hospitals in Springfield, St. Louis, South (St. Louis), Oklahoma City, Ft. Smith, Ardmore, Joplin, Rogers, Washington, Jefferson, Lebanon, and Ada will be opening a special triage space near the main ER entrance to immediately provide help and masks for those who think they may have COVID-19. Adding this extra level of triage also protects patients who are visiting the ER for unrelated issues. An initial triage nurse will quickly assess the reason for a patient's visit and if COVID-19 is suspected, the patient will be isolated from the rest of the patients and treated in that space. If the potential COVID-19 patients are more ill, they will be routed through a separate entrance to minimize exposure to the waiting room and other patients.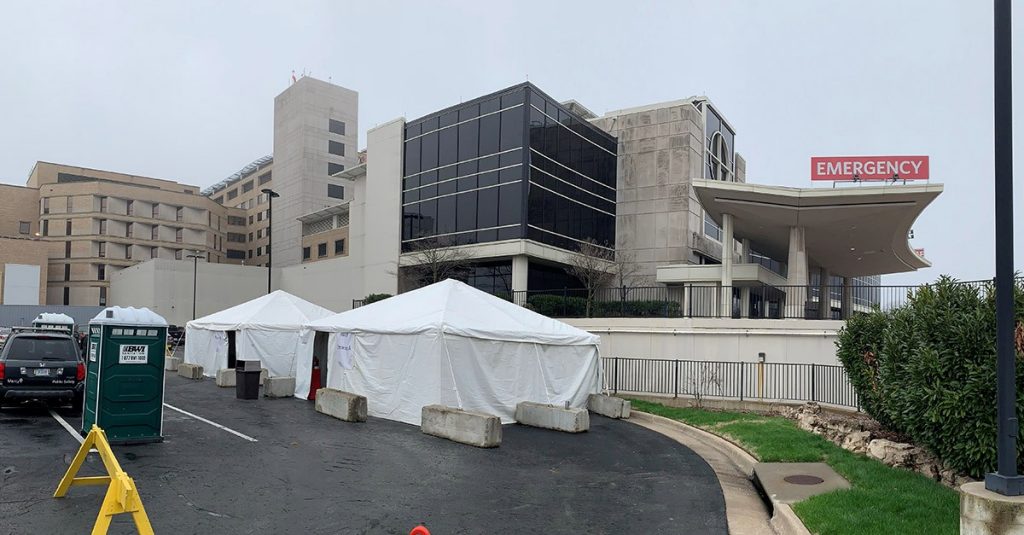 Mercy is implementing outdoor forward triage spaces near emergency entrances, such as this one at Mercy Hospital Springfield, to immediately provide help and masks for those who think they may have COVID-19.
Dedicated Care Areas
Mercy is setting up dedicated care areas in some clinic and hospital locations to keep those with suspected respiratory illnesses needing care separate from other patients. Given the unprecedented challenge that we're facing, these areas have been designed to better re-purpose our doctors, nurses and other co-workers with the goal of protecting the health of all of the communities we are privileged to serve and be able to continue care for all patients seeking health care. Given the specialized nature of these locations, walk-ins will not be accepted and patients will need a provider referral to be cared for in these areas.
Virtual Visits
As a leader in virtual care, Mercy is taking steps for patients to visit their providers in a secure method via virtual visits. Virtual care is used to reduce exposure risk for patients and possible transmission for the healthy and ill alike. For outpatient visits, more details will be coming soon on how patients can connect via their MyMercy accounts.
Online Risk Assessment
Mercy is creating an online risk assessment to help patients understand if they need to be tested for COVID-19 based on their current symptoms and risk factors. Following the assessment, the patient will be provided with instruction on next best steps based on the patients' answers within the assessment and guided through the process including possible testing, triage, monitoring and in-home care if necessary.
Restricted Visitors
To protect patients, co-workers and the community, Mercy will be further expanding visitor restrictions beginning Monday, March 23. No visitors will be allowed in the hospital with limited exceptions. We apologize for any inconvenience and hope everyone understands the need for these restrictions to protect our patients and caregivers.