April 16, 2020
ST. LOUIS – With stay-at-home orders and the threat of the COVID-19 pandemic, Mercy emergency rooms (ER) aren't nearly as busy as usual. That's good news as people heed warnings to stay home – but doctors say you should still come in if you need emergency care.
"There have been instances across the country where people wait too long in certain circumstances and had bad outcomes," said Dr. Alok Sengupta, medical director for Mercy emergency departments in the St. Louis region, including Jefferson, Lincoln, South, St. Louis and Washington. "We understand concerns regarding exposure to germs, but time matters when it comes to many serious conditions."
COVID-19 concerns led Mercy to set up "forward triages" at many of its emergency rooms. Patients are quickly assessed and those with potential COVID-19 symptoms are immediately masked and separated from others.
Non-emergency care needs continue as well, including well-child checkups. According to the American Academy of Pediatrics, kids should still have their routine vaccinations. 
"Immunizations help strengthen kids' immune systems, which is especially important at this time," said Dr. Joe Kahn, pediatrician and president of Mercy Kids.
Mercy Kids' offices are scheduling patients so there is no mingling of sick and well children. In addition, scheduling has been adjusted so families go straight to an exam room, eliminating the need to sit in a waiting area.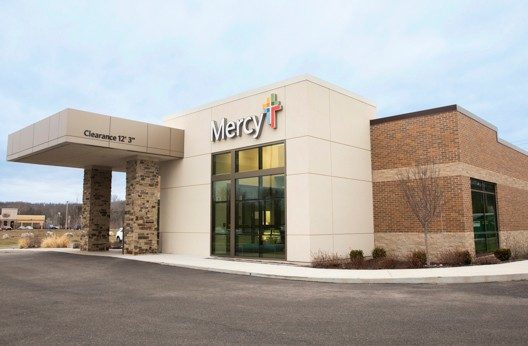 For adults, Mercy Clinic locations are offering both video and telephone doctor's visits to give our patients peace of mind for those worried about visiting a clinic. In many cases, there may not be a need for an in-person visit. Even if there is, for those with chronic or new conditions, Mercy has safeguards in place.
"We are taking extra measures by screening everyone – from our co-workers to our patients – at the door," said Dr. Jeff Ciaramita, president of Mercy Clinic in the St. Louis area. "If patients have symptoms, we will mask them. All co-workers are masked and we've limited visitors. Ultimately, we are here for you and have made it as safe as possible."
Mercy patients with a MyMercy account can reach out through the app to contact their provider's office. The office will let you know whether your visit should be by phone, video or in person. If you don't have a MyMercy account sign up online.
In addition, for patients with acute orthopedic injuries and ailments, Mercy Clinic Orthopedic and Sports Medicine practices across the St. Louis area are providing same-day appointments.
For urgent, but non-emergency care, Mercy-GoHealth Urgent Care locations are still open. You can go online to reserve your time to be seen, walk in and get care immediately – or choose a video visit for some conditions. 
Media Contacts
Bethany Pope
St. Louis, St. Charles, St. Louis - South, Troy, Festus
Joe Poelker
St. Louis, St. Louis - South, Festus, Troy
Bethany Pope
St. Louis, St. Charles, St. Louis - South, Troy, Festus