Amid our nation's civil unrest, Mercy's Dr. Damian Findlay had an idea.
"I wanted to highlight the diversity I see every day at Mercy," said Dr. Findlay, who serves as chief of the division of oral and maxillofacial surgery at Mercy Hospital St. Louis.
"Diversity is the greatest tool we have to try to end racism by opening up to others' ideas and perspectives," he added.
His goal: to personify creativity, equity in health, economic empowerment and mutual respect among co-workers by dispelling stereotypes and implicit biases. Dr. Findlay spent a month sharing his idea and taking pictures and the response was tremendous.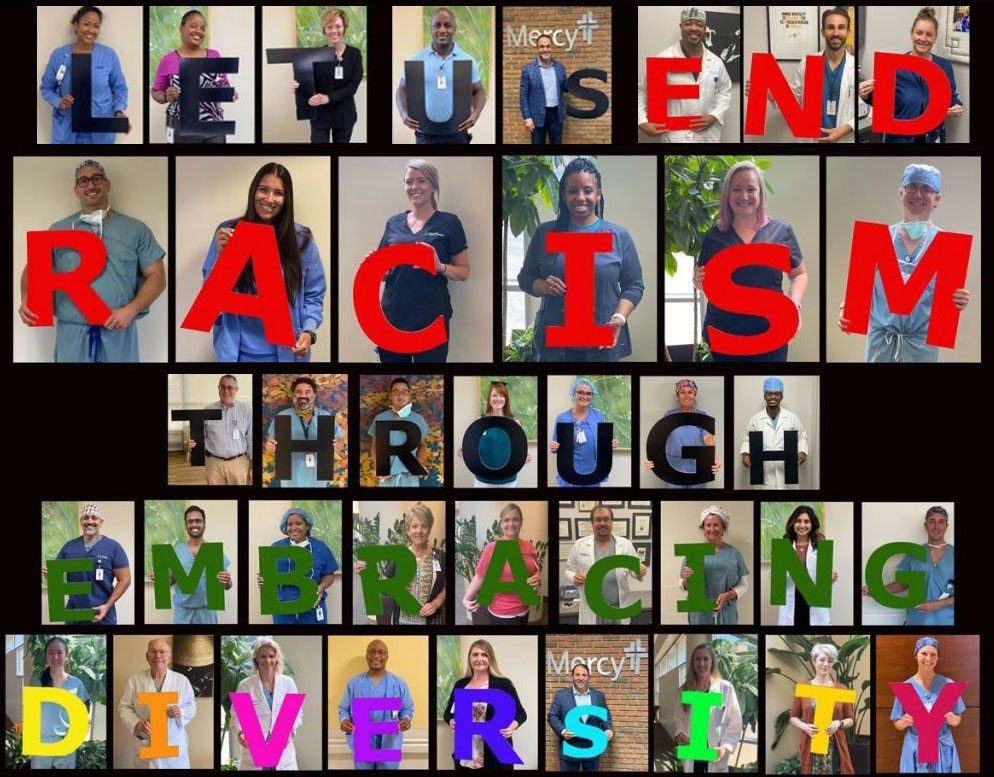 Dr. Damian Findlay pictured holding the E in END.
"Everyone I asked was excited to participate – from doctors, nurses, practice managers, interpreters, medical assistants, administrative assistants and hospital administrators. My hope is that it showcases Mercy's effort to create a diverse environment."
While Mercy has made strides to increase diversity, there is more to do.
"I'm optimistic that change is afoot. America is a great country and we have made advances to end racism," he said. "We must continue to strive for progress."
"People fail to get along because they fear each other; they fear each other because they don't know each other; they don't know each other because they have not communicated with each other."
— Martin Luther King, Jr.
#WhiteCoatsforBlackLives was a time of silent reflection and commitment to the health and safety of people of color.
The death of George Floyd and the protests that followed opened the eyes of the world to the systemic racism that continues to haunt us.