TROY, Mo.– Toyota and Mercy today announced the launch of a new community COVID-19 education campaign, "Let's Get it Done in 2021." The tag line will be seen throughout the Lincoln County area and will encourage everyone to continue wearing face masks, social distancing, washing hands and vaccinating when it's time.
"The number of patients admitted to Mercy Hospital Lincoln with COVID-19 has steadily decreased," said Tony Rothermich, Mercy Hospital Lincoln administrator. "Our shared hope is to bring an increased awareness about the importance of continuing these simple steps to reduce risk so we can protect one another and continue the downward trend."
The campaign was made possible through a $16,850 grant to Mercy Health Foundation Lincoln by Toyota Motor Manufacturing, Missouri.
"Toyota is committed to improving the communities in which we operate, and we're hoping the campaign with Mercy will encourage people to think about the impact they have on those around them and follow CDC COVID-19 guidelines," said Wes Woods, president of Toyota Missouri. "We must work together to regain our health and provide economic stability.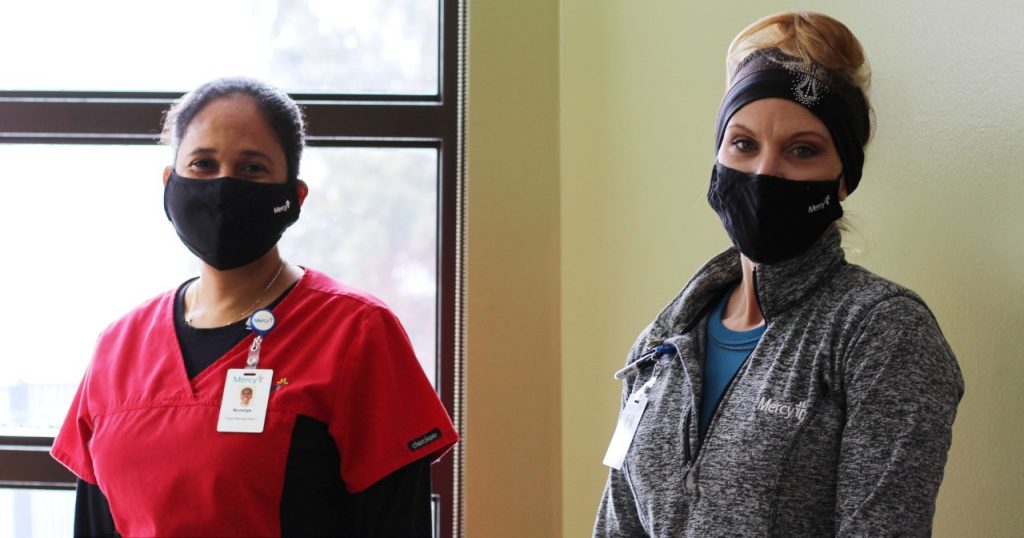 Co-workers Norelys Wood and Kristi Howell model the cloth masks made available to area businesses thanks to a grant from Toyota Motor Manufacturing, Missouri.
Together, Toyota and Mercy are offering free cloth face masks for our Lincoln County businesses and organizations to distribute to employees and customers. Supply is limited; 3,000 masks in total will be distributed. Interested businesses can contact Ashley Rottler, [email protected], with a requested mask quantity.
To learn about our mission and help Mercy build a healthier community, visit mercyhealthfoundation.net.
Mercy Health Foundation Lincoln is a nonprofit organization that helps meet the health care needs of those we serve. The Foundation, dependent on donations, raises funds to improve patient care programs, fund lifesaving equipment and provide resources that benefit patients at Mercy Hospital Lincoln and Mercy Clinics throughout Lincoln County.