April 14, 2021
Mercy-GoHealth Urgent Care, serving the community with on-demand care as well as COVID-19 rapid testing, opened a new location on Northwest Expressway in Oklahoma City this week.  The new urgent care center is located at 8500 N. Rockwell Ave., next to Starbucks, and features an award-winning design that puts patients at the forefront.
The new location provides state-of-the-art services for non-life-threatening illness, injury care and seamless integration with Mercy in a convenient location in northwest Oklahoma City near Warr Acres, Bethany and Yukon.
"We introduced this new model of urgent care to serve Oklahomans three years ago and we're excited it's been very well received," said Dr. Jesse Campbell, community president of Mercy Clinic in Oklahoma. "This high quality, efficient urgent care model integrates seamlessly with our Mercy primary care physicians and specialists for patients who need follow-up care."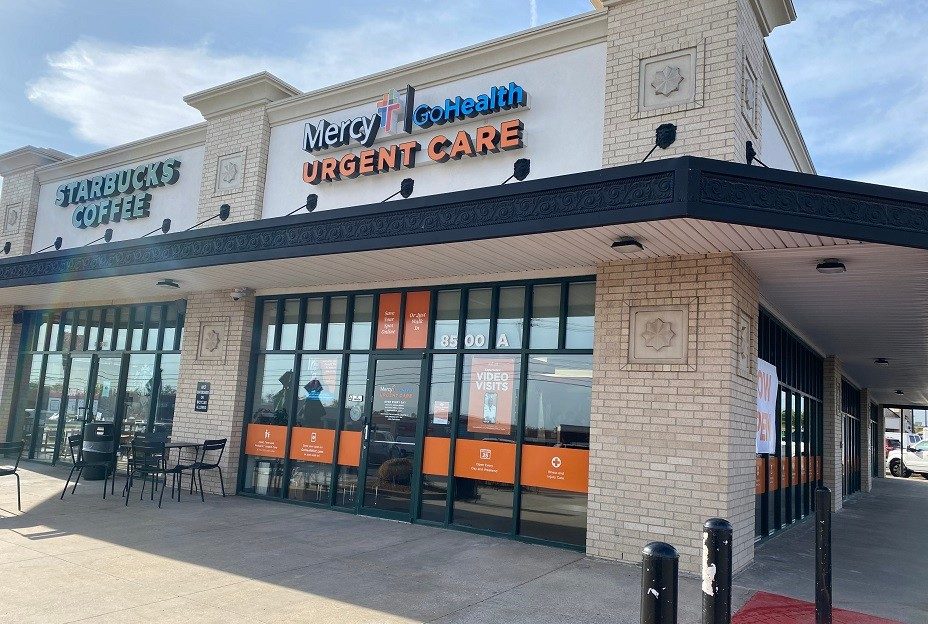 Adults and children 6-months and older can be seen for hundreds of common health concerns, including COVID-19, flu, fever, asthma, allergies, minor cuts, burns, pink eye, urinary tract infections, fractures, sprains, strains and more.    
"We are pleased to support our community through this new center," said Sherry Buebendorf, regional president of Mercy-GoHealth Urgent Care. "The health and wellness of our patients is our top priority, and we are honored to serve our neighbors through our consumer-focused care model."
The new Northwest Expressway center, along with the seven other Mercy-GoHealth Urgent Care centers in Oklahoma City, is open 8 a.m. to 8 p.m. Monday through Friday and 9 a.m. to 5 p.m. on weekends, including holidays.
Patients seeking care or COVID-19 testing can save their spot online for convenience, and walk-ins are always welcome.  In addition to our centers throughout Oklahoma City, we also care for patients through our Virtual Visits, which provide unparalleled access throughout Oklahoma.    
Media Contact
Meredith Huggins
Guthrie, Kingfisher, Oklahoma City, Ada, Ardmore, Healdton, Watonga, Tishomingo