April 20, 2021
ST. LOUIS - As COVID-19 cases rise across the country and eligibility expands, Mercy has now opened appointments online for anyone wanting a vaccination.
"With a steady supply of vaccine coming in, we're ready for anyone 16 and up to choose their appointment times," said Jon Lakamp, Mercy chief pharmacy officer.
Getting your appointment is as easy as going online to www.mercy.net/MOVaccine. When a location has appointments available, it will be listed on the page and open for scheduling. As appointments fill, those locations will temporarily come off the website. Mercy Vaccine Clinics are distributing the Pfizer vaccine with Mercy Pharmacy locations giving the Moderna vaccine.
"If you don't see your preferred location, keep checking back," Lakamp said. "Appointments will be posted according to vaccine availability and are for first doses only. You'll schedule your second dose during your first appointment."
Mercy has worked through its earlier vaccine registration lists. Anyone who thought they were registered but hasn't been contacted can now schedule one of these online appointments. For those without internet access, please call 833-364-6777.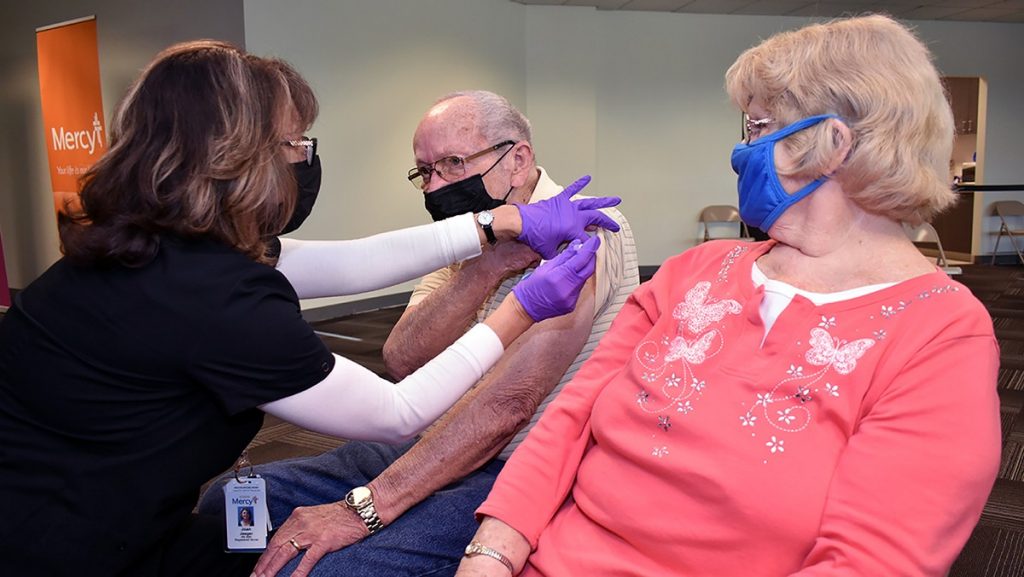 If you have an opportunity to get a vaccine before one becomes available to you through Mercy, you should take advantage of the opportunity.
"The efficacy of all the vaccines is exceptional," said Dr. Will Sistrunk, head of Infectious Disease for Mercy. "As we try to get ahead of the variants that are out there, we're continuing to advise you to get the first one you can."
Getting your vaccine means the virus can't use you as a means to mutate. "I think it's important for people to understand that even if they don't think they're at high risk, this is something we can all do to protect our entire community," Dr. Sistrunk said. "The side effects are generally minimal, and they mean the vaccine is working to boost your immune system."
Please bring valid identification to your appointment. Vaccines are approved for those age 16 and up, but patients younger than 18 must have a parent or guardian present at their appointment.
Find the nearest Mercy COVID Vaccine Clinic appointment and schedule yours today.
Media Contacts
Bethany Pope
St. Louis, St. Charles, Troy, Washington
Joe Poelker
St. Louis - South, Festus