August 18, 2021
Dr. Larry Rudolf and his wife grew up just up the highway in Oakville and recently moved back to the area to grow their family, which now includes a new baby boy. The Rudolfs like going camping and taking in live music performances along with hanging out with their extended family. Dr. Rudolf recently joined Mercy Clinic Primary Care – Calvary Church Road as a family medicine specialist.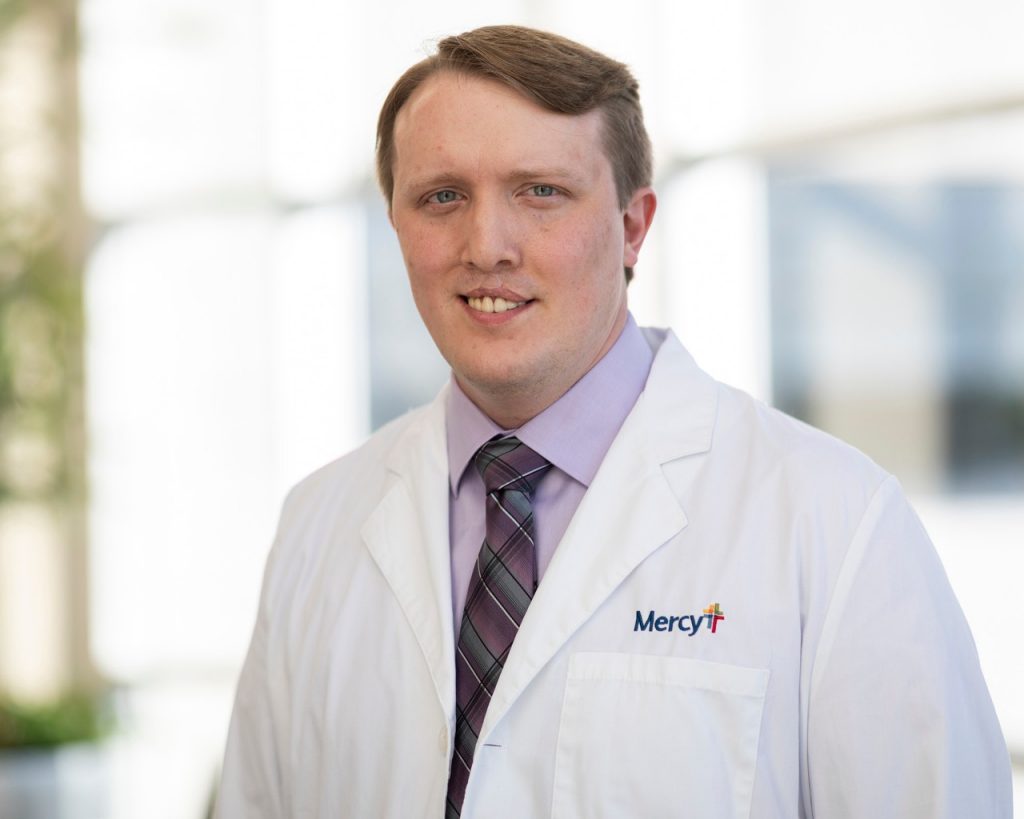 Dr. Larry Rudolf recently joined Mercy Clinic Primary Care – Calvary Church Road as a family medicine specialist.
Did you always know you wanted to be physician?
I was a long-term patient from a young age, being born with cleft lip and palate. I was blessed to receive care from a wonderful pediatric plastic surgeon, Dr. Jeffrey Marsh, who later became one of my mentors. From around the age of five years old, I remember wanting to be like Dr. Marsh. Through years of shadowing at Mercy as well as volunteering during high school and college, I felt truly drawn to the calling of medicine. I was accepted to Saint Louis University School of Medicine and was fortunate to continue my journey in the city where my wife and I grew up.
What drew you to your specialty?
I initially had my sights set on surgery, then pediatrics, even doing research in pediatric plastic surgery during medical school. However, I realized during my third year of medical school that the operating room setting was not energizing to me. I found that while I did like procedures, I really enjoyed working with patients (both adults and children) in the clinic and outpatient setting. I began to appreciate the impact you can have working together with a patient over time. It was this continuity, which was impressed upon me at a young age, that I re-discovered during my family medicine rotation in medical school. I also love the variety and scope of practice that family medicine physicians manage in patients of all ages.
What made you want to join Mercy?
My family and I have received excellent care through Mercy growing up, so I was already familiar with Mercy's mission, service and expertise. I was lucky to be able to rotate through the Mercy family medicine clinic in Creve Coeur during my fourth year of medical school. I was captivated by the compassion, proficiency and mentorship among the faculty, staff and resident physicians in the program. I was truly fortunate to have matched into Mercy family medicine residency as my top choice program after medical school to be able to train alongside and learn from outstanding primary care clinicians.
I look forward to continuing my journey at Mercy Jefferson to be able provide for patients and their families.
Dr. Rudolf is accepting news patients. Appointments can be scheduled online.
Media Contact
Joe Poelker
St. Louis - South, Festus