Starting today, mothers are now delivering their babies in all new, state-of-the-art suites for labor, delivery, recovery and postpartum needs at Mercy Hospital South. The opening of the suites marks the completion of the first half of a total rebuild of Mercy Birthplace – South and strengthens Mercy's commitment to improving women's health care and access to that care.
Half of the fourth floor of the main hospital tower at Mercy South was gutted and rebuilt to create 15 new LDRP suites. Each suite is larger than previous labor and delivery rooms and is designed to provide a comfortable space for a family's entire stay from arrival to discharge. Two of the suites include bathtubs, and the unit supports low intervention births. The improvements also include newly renovated operating rooms.
"This rebuilt birthplace will allow our team to enhance their knowledge, experience and compassionate care with the latest technology and all new equipment," said Susan Jones, nurse manager of Mercy Birthplace – South. "Families will find the environment comfortable and beneficial for the birth they want."
Construction crews will now shift their work to the other half of the floor to expand the level 2 neonatal intensive care unit (NICU) staffed by Mercy Kids providers, add four flex rooms to accommodate a variety of patients, and renovate three obstetric triage rooms. This phase of the project is scheduled to open near the end of 2022. Final touches to create a seamless, unifying birthplace environment are scheduled for completion in early 2023.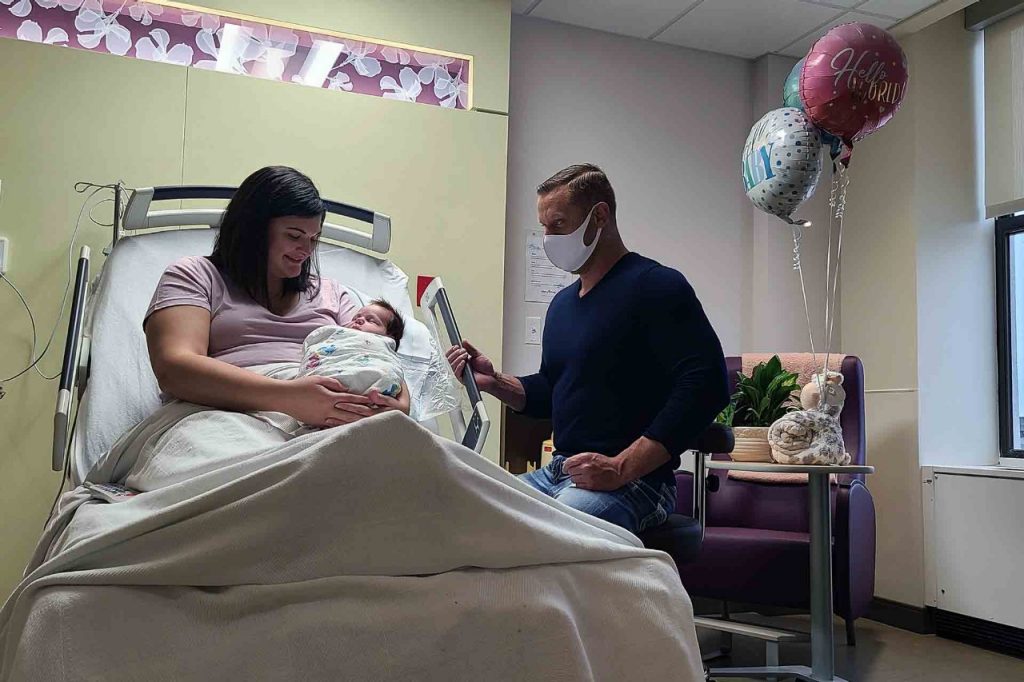 Boniface Foundation generously donated $18 million to improve women's health care services at Mercy South. Most of that gift, $17 million, is devoted to the 36,700-square-foot birthplace project.
"Our team of caregivers is amazing and recently celebrated top patient satisfaction scores. Thanks to the generosity of the Boniface Foundation, we are getting an upgraded physical space to add to that patient experience," said Jones.
"We want Mercy Hospital South to be south county's provider of choice," said Kelly Wetzler, executive director of the Boniface Foundation. "We are excited to create an inviting and comfortable environment for women to experience high quality care while expanding their families."
The Boniface Foundation gift also funded the construction of a new, on-campus obstetrics and gynecological clinic. The 7,000-square-foot Mercy Clinic OB/GYN – 10004 Kennerly Suite 230A opened in March 2021 in the medical office building adjacent to the hospital.
The new clinic is one stage of Mercy South's effort to provide increased access to women's health services. To better serve patients at the Mercy South campus, Mercy Clinic has added five OB/GYN physicians in less than a year with two more OB/GYN physicians scheduled to join in January.
Within the hospital, Mercy South has added a team of dedicated obstetrician hospitalists to provide on site emergency care, triage care and support for clinic physician and nurse practitioners
"Providing the necessary access to women's health care is an important part of meeting the needs of our community," said Dr. Laurel Fendrich, medical director of obstetrician hospitalists. "We're honored to be able to expand that access and bring care to the women of our own community in the tradition of the Sisters of Mercy and their efforts to meet the needs of others."
Anyone who would like to help Mercy South meet those needs of mothers and babies can donate to Mercy Health Foundation South. For more information, visit mercyhealthfoundation.net/south or call 314-525-7330.