Exceptional patient care, improved patient outcomes and adherence to best practices has earned the surgical intensive care unit (SICU) at Mercy Hospital South the gold level Beacon Award for Excellence from the American Association of Critical-Care Nurses (AACN). The Mercy South SICU is the only gold level Beacon Award unit in the St. Louis region and the entire state of Missouri.
The gold level Beacon Award is the highest of three levels earned by hospital units for improving patient outcomes, meeting the AACN's six healthy work environment standards, and meeting national criteria that is consistent with the American Nurses Credentialing Center Magnet Recognition Program®, the Malcolm Baldrige National Quality Award and the National Quality Healthcare Award.
"We take pride in the high-quality care our SICU team provides to our patients and to each other," said Carol Klos, RN, nurse manager of the Mercy South SICU. "To be recognized for this excellence is an honor. Our Unit Practice Council started the Beacon journey two years ago. A high level of commitment and determination was displayed by our nurses to submit this application. Through the process, we learned about ourselves as a team, how our team supports the Mercy mission, and how our Mercy South family supports us in our endeavor for continuous improvement. I believe their gold level recognition accurately recognizes the hard work our team put into it and the excellent care the SICU provides for their patients and families.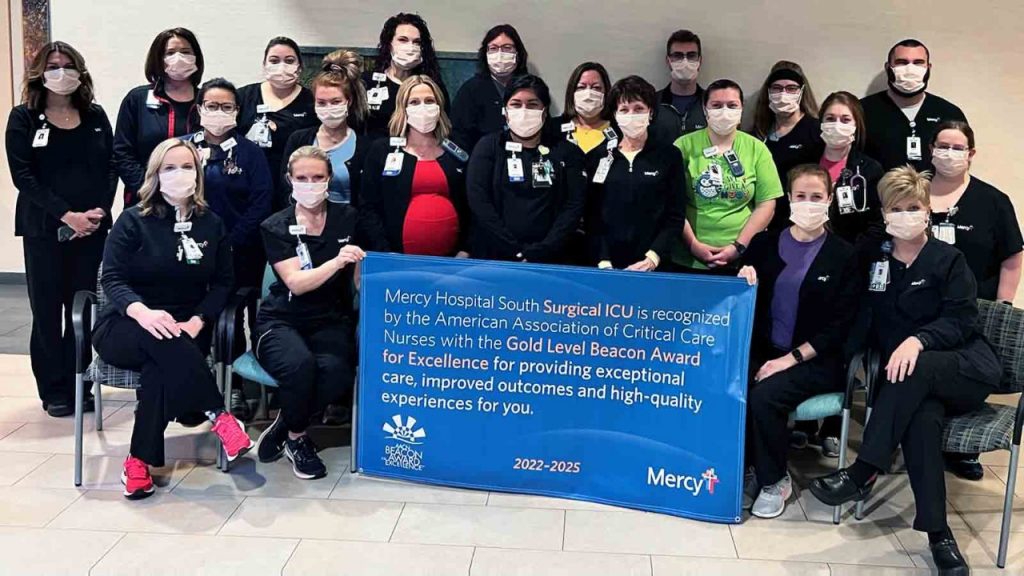 The surgical intensive care unit at Mercy Hospital South earned the gold level Beacon Award for Excellence.
Earning the gold level Beacon Award required the Mercy South SICU team to an effective and systematic approach to policies, procedures and processes that include engagement of co-workers and key stakeholders, fact-based evaluation strategies for continuous process improvement, and performance measures that meet or exceed relevant benchmarks. Criteria for the award includes:
leadership structures and systems
appropriate staffing and staff engagement
effective communication, knowledge management, and learning and development
evidence-based practice and processes
outcome measurement
"The Beacon Award for Excellence is a testament to a team's commitment to providing safe, patient-centered and evidence-based care to patients and families. Creating healthy and supportive work environments empowers nurses and other team members to make their optimal contribution," explained Beth Wathen, MSN, APRN, CCRN-K, president of the American Association of Critical-Care Nurses.