ST. LOUIS - When he left work on Feb. 3, Doug Walton never imagined he would still be trying to get home three months later.
During a snowstorm, Doug watched as a semitruck jackknifed in front of him and another slammed into his vehicle on I-70 and Mid Rivers Mall Drive in St. Charles County, Missouri. He called his wife Michelle to tell her what happened and that he was ok and then he got out to look at the damage. That's where his memory fades.
"I knew it would be a while before he got home, because of the accidents around him," Michelle said. "When I got a call from Mercy, I couldn't comprehend what I was hearing. I had just been talking to him and he was fine."
What Michelle had yet to learn was that Doug had been at the center of a third accident while he was outside his car. A third semi lost control and pinned him between vehicles. With severe injuries, he needed immediate trauma care.
Doug was taken to the closest Level 1 trauma center – Mercy Hospital St. Louis. With the snow still coming down, Michelle was in a panic on how to get to her husband.
Michelle was told that Doug's leg was broken, so she started making calls to friends to help her get to the hospital. "Due to the weather and road conditions, I didn't want to drive myself and end up having an accident on my way," Michelle said. "When they called back a second time to emphasize the urgency and tell me his blood pressure was low, I knew it was serious."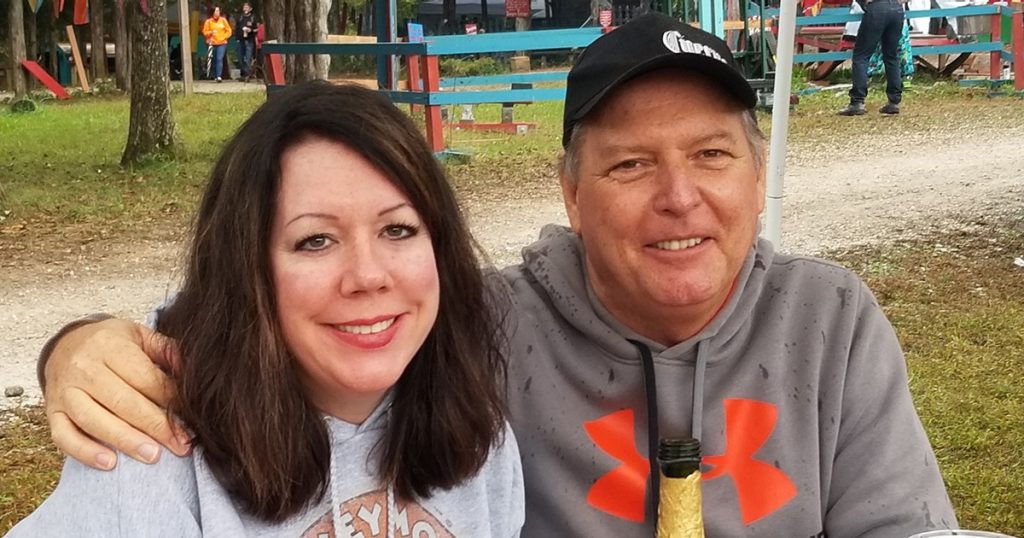 Michelle and Doug Walton before his February accident.
Michelle was able to see him briefly before he went back for a long surgery. "He squeezed my hand, so that made me feel a little better. He was still with me."

Doug's list of injuries included open hip and leg fractures, traumatic abdominal wall and pelvic hernias and a colon transection just to name a few. The first of many surgeries required hours in the operating room with two trauma surgeons and an orthopedic surgeon.
Trauma patients in a car accident might use anywhere between four and 12 units of blood. In Doug's case, he received 90 blood products in the first 24 hours at the hospital.
"When patients come to us, it's in unexpected and very serious circumstances. Taking care of them in this time of need is what drives our team," said Dr. Alison Gildehaus, trauma surgeon and medical director of Mercy St. Louis trauma services. "It's a privilege to be there for patients and their families in those moments – the ups, the downs and everything in between."
"It was a living nightmare," Michelle said. "You don't stop being scared."
Doug spent time in the intensive care unit, where he and Michelle plan to return for a visit to thank those who cared for him during those harrowing weeks. He is now at a rehab center where he continues to recover with a good prognosis.
"Before we were ever able to truly 'meet' Doug, it was clear that he was incredibly strong, inherently positive and absolutely one of the kindest individuals around. We could see this each day in his wife and daughters," Dr. Gildehaus said. "I doubt any of us will forget his big smile and that Miami Dolphins hat."
After a month at the rehab center, Michelle and Doug have been able to step back and appreciate the care they received at Mercy and blood products that were available when he needed them. Throughout his two months in the hospital, Doug had more than 15 surgeries and used a total of 133 blood products.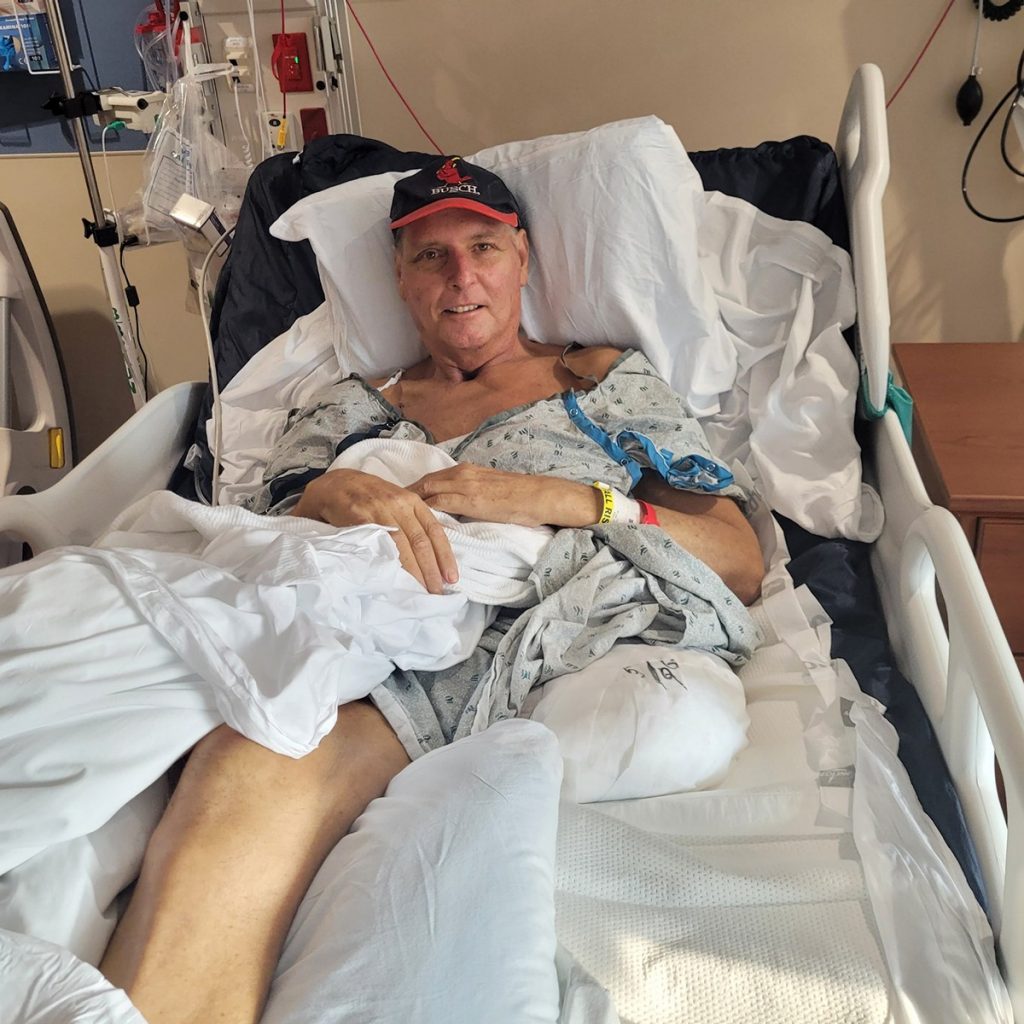 Doug Walton is still recovering with a good prognosis.
"I donated blood a long time ago, and so did Doug," Michelle said. "I knew it was an important thing to do, but life gets in the way. That won't happen anymore. I would give blood every day now if I could."

Mercy St. Louis is the only hospital in Missouri with its own blood donor program. Anyone over the age of 16, at least 115 pounds and in good health can donate. Whole blood donors must wait at least eight weeks between donations.
Doug is still receiving blood products about once a week, but as soon as he's able, he also wants to start giving regularly.
As part of National Trauma Awareness Month, Mercy Trauma Services is teaming with Mercy Blood Donor Services for a blood drive. To schedule an appointment, visit Mercy Blood Donor Services and click "Donate Now" to find a date/time that works for you.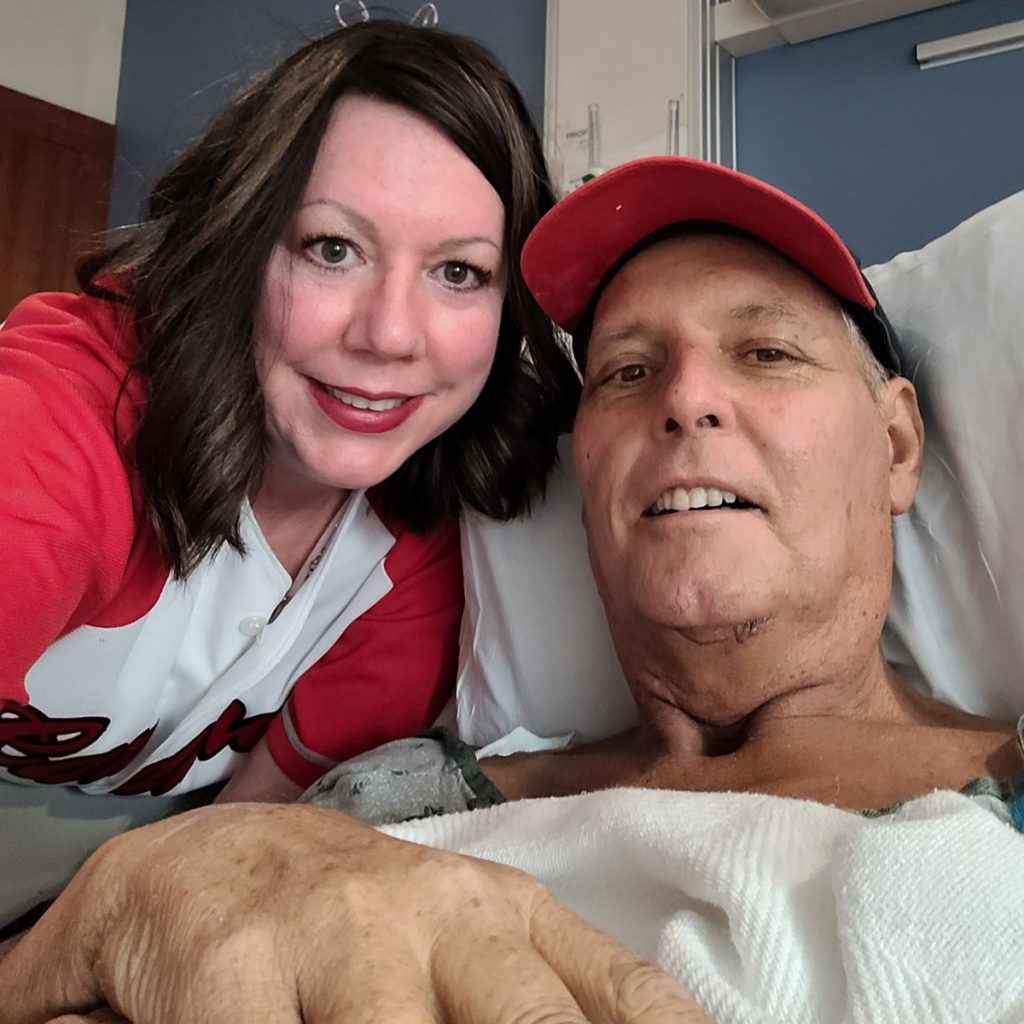 Michelle and Dough Walton after his accident, are thankful for the trauma care and blood products that saved his life.