Athletic trainers with Mercy Sports Medicine are embedded inside many St. Louis metro area high schools and get to know the athletes throughout the year. As a way of highlighting outstanding students from these schools each month, a new Mercy Sports Medicine Athlete of the Month will be recognized. Athletes are nominated by coaches and selected by a committee.
Here are the Mercy Sports Medicine Athletes of the Month for the 2023-2024 school year.
October 2023
Caroline Tomlinson, a junior at Pacific High School, is one of the top players on the volleyball team. She was named Player of the Year for the Four Rivers conference and first team all-district for the South Central. She is constantly pushing herself and everyone around her to be their best. Along with her athletic accomplishments, Tomlinson excels in her academics and is part of the student council, leadership team and A+ mentor program.
Will Poelker, a junior cross-country runner at De Smet Jesuit High School, is a leader on and off the field and led his team as the top DeSmet runner in each of his meets this season. He's been a four-sport athlete since his freshman year and earned five varsity letters, all state, first team all-district and two first team all-conference honors. He led the Spartans to state finals where they finished seventh and he was awarded all-state honors. Poelker is involved in National Chinese Honor Society, National Honor Society, Presidents' Ambassadors and multiple other clubs. He serves as yearbook managing editor, vice president of the Asia Club and president of the Winter Running Club.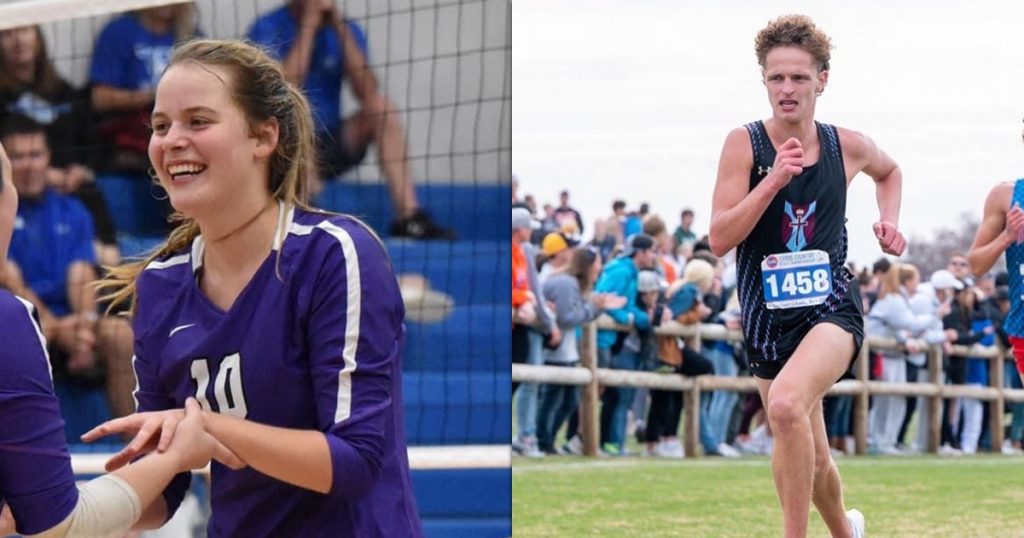 Caroline Tomlinson and Will Poelker - Mercy Sports Medicine Athletes of the Month - October 2023 (submitted photos)
September 2023
Yvonne Shannon and Emily Koo, Parkway North High School senior tennis players, were nominated and recognized as a pair keep in stride with their success playing doubles over the last three years. Together they have set numerous school records, including a record of 61-5 during their high school career, breaking a 25-year school record. The pair finished 23-2 his year and won the District Doubles Championship in the state's most difficult district. Beyond the tennis court, both are recognized as great young women, leaders and well-liked and respected by their teammates and opponents. They are involved in multiple school clubs and their sportsmanship has been singled out by opposing coaches.
Messiah Smith is a Parkway North High School junior football player who stepped out of his comfort zone of running back and into the quarterback position. Without any actual game experience, Smith took control and helped bring the team to a 5-1 record (as of nomination). In his first three weeks in the position, Smith threw for more than 300 yards and rushed for over 500 yards.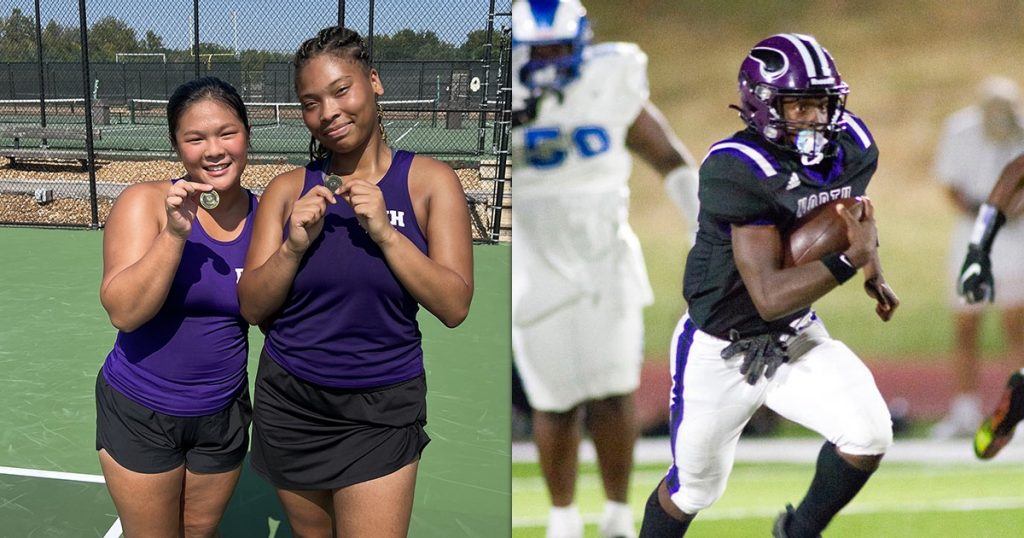 Yvonne Shannon and Emily Koo and Messiah Smith - Mercy Sports Medicine Athletes of the Month - September 2023 (submitted photos)