Hours of Operation:
Monday-Thursday: 8 a.m. - 4:30 p.m. Friday: 8 a.m. - Noon
The physicians at Mercy Clinic Ophthalmology - Patients First Drive, in Washington, Mo., provide a full range of comprehensive eye services close to home. Eye care specialists E. Glenn Sanford, MD, ophthalmologist, and Doug Rose, OD, optometrist, offer:

State-of-the-art cataract surgery, including multi-focal and astigmatism correcting lenses
Surgical management of glaucoma and other eye disorders
Eyelid surgery
Macular degeneration management
Diabetic eye exams
Treatment of dry eyes
Refractive evaluation
Eye infection management
Cornea/anterior segment disease management
Both doctors are welcoming new patients and accept most insurance plans. Dr. Sanford also performs surgeries at the Mercy Outpatient Surgery Center conveniently located in the same building as his office - Mercy Medical Building South, 901 Patients First Dr. in Washington.
Services Offered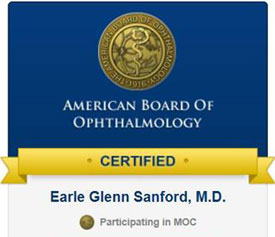 Resources