1898
On a hot August day in 1898, five Sisters of Mercy looked out over the rolling hills of southern Oklahoma and saw the future of a town. Ardmore, Oklahoma – part of the Chickasaw Nation – was barely a decade old. Its children, descendants of Chickasaw and Choctaw Indians, as well as trading and railroad construction workers, would need education if the city was to thrive.
A donation by a Choctaw Indian widower gave the Sisters the land on which to build a school. Funds to open it came from Mother Katherine Drexel, a Sister of Mercy who would go on to found the Blessed Sacrament Sisters and become a saint.
On September 1, 1898, St. Agnes Academy for young Native American girls opened its doors. The Sisters taught there until 1968 when lack of enrollment forced them to withdraw.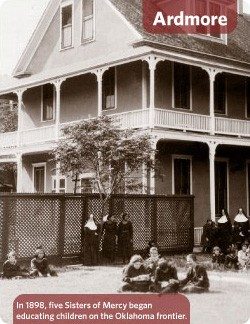 In 1898, five Sisters of Mercy began educating children on the Oklahoma frontier
1947
By the end of World War II, there was general concern over the lack of adequate healthcare facilities in Ardmore and throughout southern Oklahoma. In 1947, the Ardmore Chamber of Commerce determined the priority project of the Chamber would be the construction of a new hospital.
Memorial Hospital of Southern Oklahoma opened in 1955 as a community-run hospital.

1996
It changed hands several times over the next 40 years, becoming part of Mercy in the summer of 1996, under the name Mercy Memorial Health Center.
Mercy Hospital in Ardmore, Oklahoma