She lives on a farm, has a husband and four children - including one set of twins - and provides health care to her hometown of Lockwood, Missouri.
It's pretty amazing, especially considering that Dr. Angie Whitesell didn't even plan on going to medical school. She had excellent grades at the University of Missouri-Columbia, which led her advisor to recommend medicine. She started spending time shadowing doctors, and soon realized her heart really was in rural medicine.
These days, Dr. Whitesell cares for newborns to very elderly patients and handles everything from injuries to illnesses and regular check-ups. She also has a passion for educating the next generation of small-town doctors.
Medical students intern regularly with her, and she enjoys showing them how rewarding hometown medicine can be. Now, as the MU School of Medicine expands to include a clinical campus in Springfield, Dr. Whitesell will serve as an assistant professor of Family and Community Medicine.
Basically, she'll get to do what her advisor did for her: encourage students to consider rural medicine.
Earlier this summer, Dr. Whitesell's practice was featured in a KY3 report, "Hometown Health Care." Click here to watch.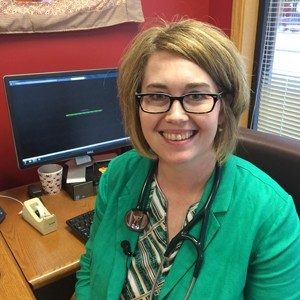 Dr. Angie Whitesell