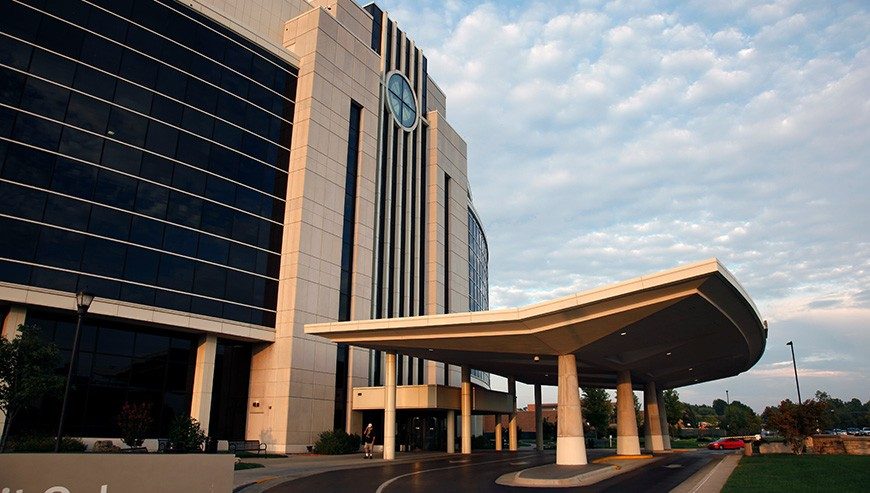 Mercy Hospital Springfield has been a healing presence in the Springfield region for more than 130 years.
Recognized by the American College of Cardiology in the 2021 U.S. News & World Report "Best Hospitals" issue for commitment to hospital care for heart patients.
Named one of the nation's Top 5 Health Systems by IBM Watson Health for four consecutive years (2016 to 2019)
Ranked as a high performing in 11 procedures/conditions by U.S. News & World Report
Named in 52 Great Health Systems to Know by Becker's Hospital Review
Named "Most Wired Advanced" by American Hospital Association for health information technology
One of only 10 systems nationwide to participate in a three-year federal test program focused on improving outcomes while decreasing health care costs for Medicare patients with chronic illnesses
Named an Accountable Care Organization by the government, which works to coordinate care to improve patients' health while cutting costs
One of four Centers of Excellence for knee and hip total joint replacements, as well as spine care, for the Pacific Business Group on Health, which includes Walmart and Lowe's
Show-Me 5 Award Recipient for breastfeeding initiatives
Accredited as an Emergency Medical Dispatch Center of Excellence from the International Academies of Emergency Dispatch
America's 100 Best Hospitals for Joint Replacement Award™ (2023, 2022, 2021) 
Superior clinical outcomes in knee and hip replacement 
America's 100 Best Hospitals for Orthopedic Surgery Award™ (2023, 2021) 
Superior clinical outcomes in back and neck surgery, spinal fusion, hip fracture treatment, hip replacement, and total knee replacement 
America's 100 Best Hospitals for Prostate Surgery Award™ (2023) 
Superior clinical outcomes in prostate removal surgery and transurethral resection of the prostate 
America's 100 Best Hospitals for Spine Surgery Award™ (2023) 
Superior clinical outcomes in back and neck surgeries and spinal fusion procedures 
America's 50 Best Hospitals for Surgical Excellence Award™ (2023, 2022) 
Superior clinical outcomes in surgical care across 15 of the most common in-hospital surgical procedures including cardiac, vascular, joint replacement, prostate, spine, and gastrointestinal surgeries 
America's 50 Best Hospitals for Vascular Surgery Award™ (2023, 2022, 2021) 
Superior clinical outcomes in abdominal aortic aneurysm repair, carotid surgery, and peripheral vascular bypass surgery
Coronary Intervention Excellence Award™ (2023) 
Superior clinical outcomes in coronary intervention procedures (angioplasty with stent)
Region's longest-serving health care provider since 1891
Region's only full-time children's cancer center, and one of only eight St. Jude Children's Research Hospital affiliates in the nation
Mercy Kids Children's Hospital in Springfield has dozens of local physician subspecialists, with services ranging from pediatric critical care to pediatric oncology, orthopedics, endocrinology and neurosurgery
Region's first neonatal intensive care unit, a Level IIIB, cares for more than 400 babies annually
Extracorporeal membrane oxygenation (ECMO) therapy for heart and lung patients
Level I Emergency Trauma Center for Missouri and Arkansas
Only Level II Pediatric Trauma Center for Arkansas
Region's only burn unit
Mercy Life Line, the region's first hospital-based air ambulance service, has more than 30 years of accident-free flight
Certified STAR Program®, which emphasizes therapy for cancer patients to improve strength, energy and daily function
3D mobile mammography van
1891: Sisters of Mercy arrive in Springfield and soon open hospital
1905: Sisters open new 40-bed hospital, along with a nursing school
1952: The third St. John's Hospital opens at current location on Cherokee Street
1981: A $20 million expansion and renovation is complete, establishing St. John's as largest privately-owned hospital in southern Missouri
1990s: Hammons Heart Institute, C.H. "Chub" O'Reilly Cancer Center, Sports Medicine/Rehabilitation, Emergency Medical Services, Life Line medical helicopter services and several physician office buildings become part of St. John's operations
2003: Six-floor outpatient surgery center and medical office building opens
2005: Emergency Trauma Center and new Outpatient Diagnostic Center with state-of-the-art imaging capabilities open
2008: Seven-story patient tower addition opens, complete with patient rooms designed specifically for use with electronic health records system
2009: Mercy's Jane Pitt Pediatric Cancer Center, a St. Jude Affiliate Clinic, opens
2012 St. John's is renamed Mercy Hospital Springfield
2013: Mercy Orthopedic Hospital Springfield opens, with 48 patient beds
2013: Ribbon is cut for Mercy Kids children's hospital, located in the east wing of the main hospital
2014: Mercy Rehabilitation Hospital Springfield opens, with 60 patient beds
2018: Mercy blesses Branson Multispecialty, a facility with everything from urgent care to family medicine, specialty outreach and infusion center
2019: Mercy blesses Bolivar Multispecialty, a facility that increases access to family medicine and brings specialists to the area. Highlights include a new infusion center and 3D mammography
2019: Mercy's Jane Pitt Pediatric Cancer Center celebrates 10 years as a St. Jude Affiliate Clinic, bringing cancer care home to more than 3,000 local children
 
2020: Mercy Heart Hospital Springfield opens fully, with new state-of-the-art operating and procedure rooms, and offering the most comprehensive heart care in the region. All heart care is now performed under one roof, simplifying the experience for the patient
2020: COVID-19 pandemic results in need for quick renovations/additions to meet demand. Mercy Hospital Springfield was the first in the area to set up a "forward triage" outside the emergency room to quickly assess patients for COVID-19 symptoms. A mobile care unit outside the ER soon followed. COVID-positive inpatient numbers soared above 100, creating the need for five specialized units to care for patients with the virus
2020: Mercy Hospital Springfield responds to the lack of personal protective equipment during the pandemic by manufacturing its own plastic face shields, which it shares with other providers
2020: Mercy Hospital Springfield is the first provider in the Ozarks to offer COVID-19 vaccinations, with two RNs from a COVID unit taking the doses simultaneously
 2020: Mercy Hospital Springfield is the first provider in the Ozarks to offer COVID-19 vaccine to those outside health care, with a 98-year-old veteran stepping up for the first dose
2021: Mercy cuts the ribbon on the new Mercy Kids Emergency Room, a center dedicated to serving children in Springfield and the surrounding area
2021: Mercy is the first health care provider in the area to announce it will require its co-workers get vaccinated against COVID-19 for the health and safety of our patients and communities
2021: Springfield, Missouri, becomes the national hotspot for COVID-19 infections due to the Delta variant. Hospitalizations top out at 155 infectious patients on July 23, 2021
2021: Mercy celebrates 130 years of service to Springfield and the surrounding communities
Using secure video and audio connections from Mercy Virtual or the local doctor's office, patients can have virtual visits with primary care providers, pediatric mental health specialists, stroke specialists and critical care doctors.
MyMercy, a free service, allows patients to connect online with their doctors, plus see medical information, view test results, renew prescriptions and schedule appointments and e-visits using a personal computer, tablet or smartphone
Da Vinci Robotic Surgical System reduces pain and improves recovery times for patients facing a variety of surgeries
Three-dimensional cardiac magnetic resonance allows views of anatomic information from any desired angle
Deep brain stimulation for the treatment of Parkinson's disease
CyberKnife radiosurgery
Catalys Precision Laser for laser cataract removal
Corneal cross-linking to treat keratoconus
3D Mammography
SAVI SCOUT for breast lumpectomy
467,804 visits
---
Outpatient
$23.1 million
---
Traditional Charity Care
$11.3 million
---
Other Community Benefit
$99.9 million
---
Unreimbursed Medicaid
233 Locations
---
Clinic and Outpatient
7,411 Co-workers
---
Hospital Based
514 Physicians
---
Mercy Clinic
66,229 Visits
---
Emergency Room
2,931 Births
---
Maternity Services
Mercy
, one of the 20 largest U.S. health systems and named the top large system in the U.S. for excellent patient experience by NRC Health, serves millions annually with nationally recognized quality care and one of the nation's largest Accountable Care Organizations. Mercy 
is a highly integrated, multi-state health care system including
 more than 40 acute care, managed and specialty (heart, children's, orthopedic and rehab) hospitals, 
convenient and urgent care locations, imaging centers and pharmacies. Mercy has 
900 physician practices and outpatient facilities, more than
4,000
physicians and advanced practitioners and more than 40,000 
co-workers serving patients and families across 
Arkansas, Kansas, Missouri and Oklahoma. Mercy also has clinics, outpatient services and outreach ministries in Arkansas, Louisiana, Mississippi and Texas.
Ettie Berneking
Branson, Cassville, Aurora, Lebanon, Mountain View, Rolla, Springfield