August 10, 2016
When Kathy Newkirk found out that Mercy Hospital Joplin was going to have the first DAISY Award in the area, she knew exactly who to nominate.
As a result, registered nurse Judi Pim, who works in the surgical department, is the first Joplin recipient of the award, which "honors the superhuman work nurses do for patients and families every day."
Newkirk, senior talent development specialist for Mercy Joplin, recently underwent surgery. During her hospital stay, Newkirk said she had several excellent caregivers; however, Pim was the one who set the bar high for everyone.
"What she did very well is communicate in a compassionate manner, work well with other co-workers and even offer to jump in and assist with a personal task so the patient care associate could attend to others in need," Newkirk said. "She made me feel like I was her top priority and that she enjoyed caring for me. Never did she make me feel like I was a burden or an inconvenience. … She made me feel appreciated. She cared for my family who were visiting or staying with me, which gave me peace."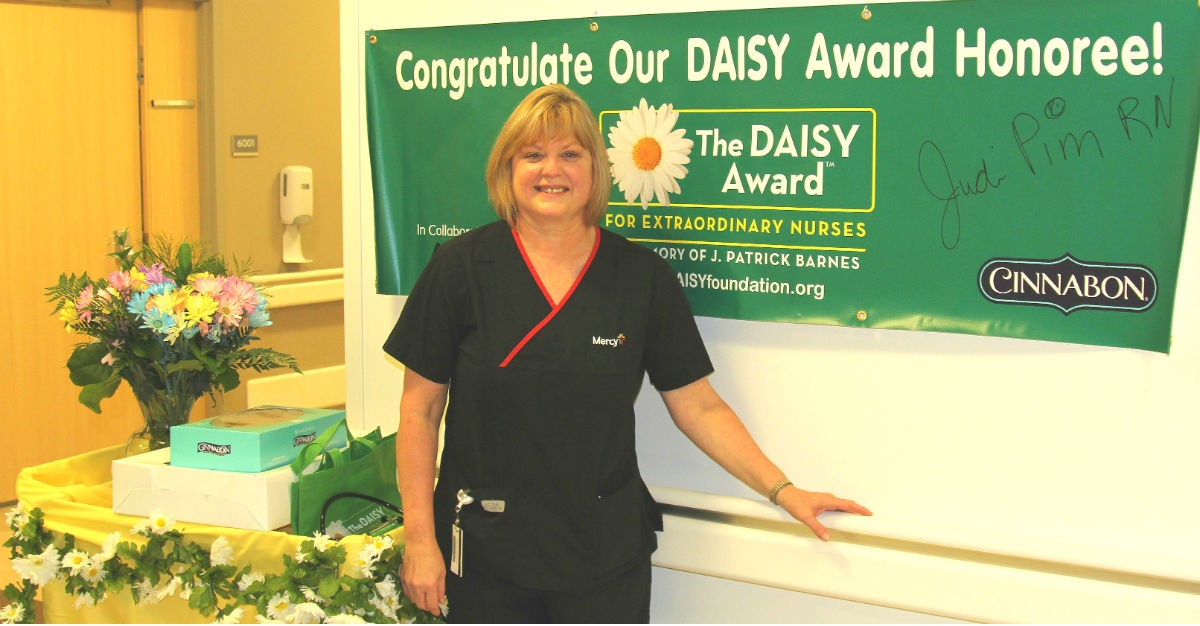 An acronym for Diseases Attacking the Immune SYstem, The DAISY Foundation was formed in 1999 by the family of J. Patrick Barnes, who died at age 33 of complications of Idiopathic Thrombocytopenic Purpura, which is a rare bleeding disorder. The nursing care he received when hospitalized profoundly touched his family, which created the DAISY Award to say "thank you" to nurses everywhere.
Pim received, among other items, a certificate signed by Barnes' father and Dennis Manley, Mercy Joplin's director of nursing, as well as a pendant to wear with her name badge signifying her as a DAISY Award recipient.
"It's just thrilling. I couldn't believe it. When I walked around the corner and saw all of those people, it was wonderful," she said of the surprise ceremony. "It's like 30 years have just flashed before my eyes. I'm very proud of what I've accomplished. Of course, I had a lot of people who helped me along the way, especially my family here at Mercy.
"I love working at Mercy. That's why I've been here 30 years. I can't imagine working anywhere else."
Mercy Joplin Foundation provided funding to start program locally
Media Contacts