July 24, 2017
Jerry Cater has been an over-the-road truck driver for nearly 35 years, so his dedication to getting goods from one location to their destination is unquestioned. His judgment about how far to push that may be a different story, but it does have a happy ending.
Cater picked up a load in Denver, Colorado, on July 3. He was delivering supplies that needed to get to Cape Girardeau where they would be shipped to soldiers overseas. As an Army veteran himself, he knew how important his freight was to those serving in the military.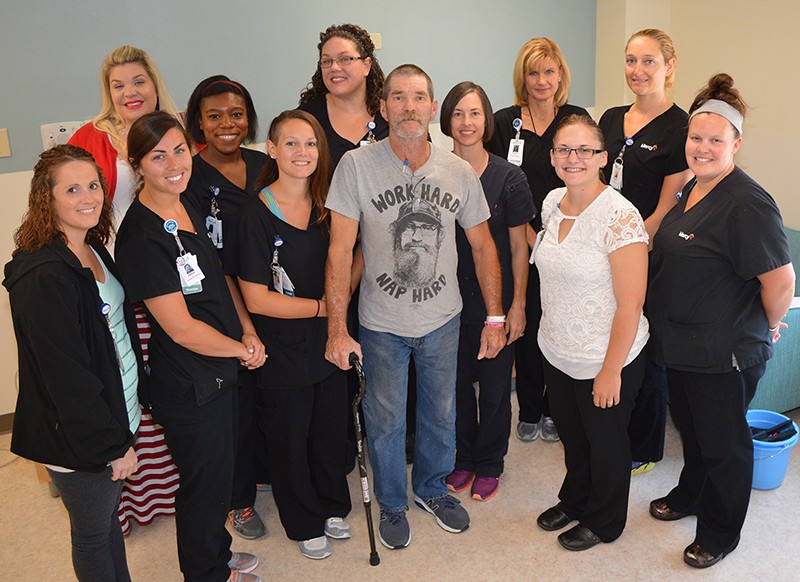 But less than four hours into his trip he started feeling tired, he said. He would have expected to go eight to 10 hours before needing a rest, but he pulled off the road to get some sleep. After he woke up, he resumed the run, but again feeling tired with a pain in the back of his head, he stopped to rest.
The next day as he drove, he noticed that his left arm and leg were feeling numb. When he reached Bloomsdale on Interstate 55, he knew something was seriously wrong, so he pulled into a truck strop and called 911.
"I realized I had to get some help. The ambulance came and brought me here (to Mercy Hospital Jefferson). When I came in I couldn't move my left side," Cater said.
In the Emergency Department they determined that Cater had a stroke caused by a blockage in his brain. Following successful treatment, Cater spent about two weeks in the Acute Rehabilitation Unit on the fifth floor where he regained strength and independence with assistance from the physical therapy and occupational therapy staff.
"They have had me walking, doing physical therapy, going up and down steps, working on hand-to-eye coordination. They have been awesome," Cater said the day before he was discharged. "I'm still a little weak in my left leg. I have this cane and about five pills I have to take."
He will continue his outpatient rehab through the VA Hospital in Memphis, as he returns to his Jonesboro home and his family as a retired truck driver.
"My driving career is over, but I am looking forward to spending time with my wife and kids and 5-month-old granddaughter. Thanks to the doctors and everyone here I am lucky that I'm still here," Cater said. "I know the man upstairs sent me here. I have so much respect for these people. They are all courteous and professional. I couldn't have asked for a better group."
Cater said he has dealt with some frustration in his recovery, because he has needed the assistance of his caregivers, while he wants to be able to do everything for himself rather than to rely on them. All his life he has been the one someone else depended on.
"I wasn't worried about myself. All I could think about was I have to get this load to Cape Girardeau. I made it within 60 miles," he said.
At 56 years old, he is retiring a little sooner than he planned, but he is looking for a full recovery and full life, and he give thanks to the acute rehab staff for getting him this far.
Media Contacts