SOUTH ST. LOUIS COUNTY, Mo. – Starting Oct. 1, St. Anthony's Medical Center will have a new name: Mercy Hospital South.
St. Anthony's Board of Directors approved the name change earlier this month and co-workers learned of it at recent town hall meetings.
The hospital's new name follows Mercy's identity standards, introduced in 2011 when Mercy adopted new names and a common logo across its seven-state area. All hospitals within the Mercy system are named "Mercy Hospital" followed by a geographic designation such as a community name.
St. Anthony's decision to affiliate with Mercy was based on their shared mission, values and heritage as Catholic health care providers and commitment to providing high quality, compassionate care, according to Mike McCurry, Mercy chief operating officer and St. Anthony's president.
"Moving forward with the name change signifies that we stand together as a united ministry, both in mission and now in name," said McCurry. "As a cornerstone of our identity, the Mercy name signifies a commitment to provide a unique, consistent and high-quality experience everywhere we provide care."
Since announcing the affiliation, Mercy and St. Anthony's have been collaborating to transition to new systems, processes and other elements of the Mercy brand. The new name will become official at the same time St. Anthony's transitions to Mercy's electronic health record system, which will enable patients throughout the region to experience coordinated, seamless care across all Mercy facilities. It also will allow time for signage changes, new name badges and updating forms and other materials.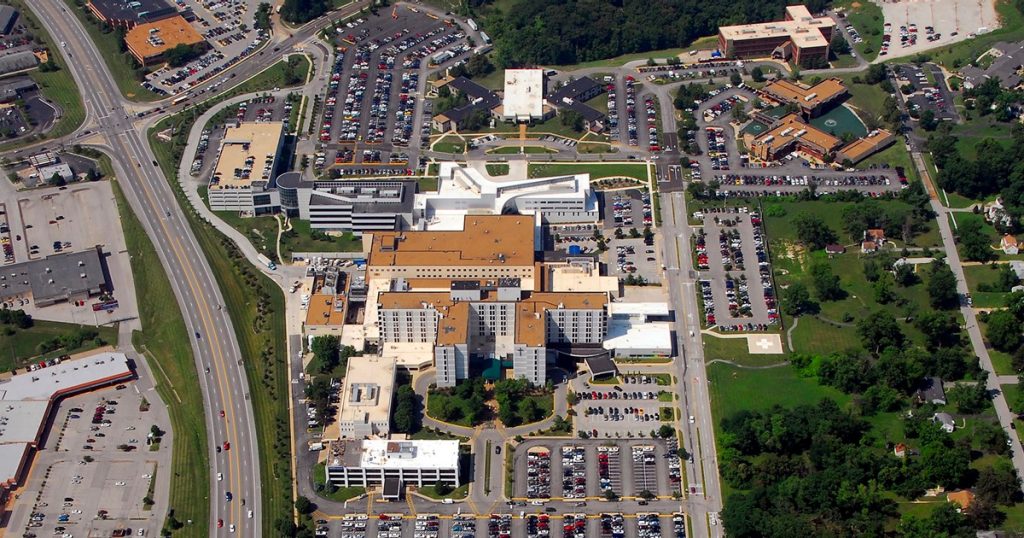 Aerial view of the St. Anthony's campus in south St. Louis County.
St. Anthony's is among the largest hospitals in the St. Louis metropolitan area, serving residents from nine Missouri and Illinois counties and the city of St. Louis. The Catholic, nonprofit medical center, located in south St. Louis County, operates a 767-bed comprehensive healthcare complex, a Level Two Trauma Center, and a Level One Stroke Center, as well as four urgent care facilities. For more information on St. Anthony's and its commitment to the community's health, visit stanthonysmedcenter.com.
Mercy, named one of the top five large U.S. health systems in 2017 and 2016 by Truven, an IBM Watson Health company, serves millions annually. Mercy includes more than 40 acute care and specialty (heart, children's, orthopedic and rehab) hospitals, 800 physician practices and outpatient facilities, 44,000 co-workers and 2,100 Mercy Clinic physicians in Arkansas, Kansas, Missouri and Oklahoma. Mercy also has clinics, outpatient services and outreach ministries in Arkansas, Louisiana, Mississippi and Texas. In addition, Mercy's IT division, Mercy Technology Services, supply chain organization, ROi, and Mercy Virtual commercially serve providers and patients in more than 20 states coast to coast.