Through a generous $4,000 donation to Mercy Health Foundation Joplin from the Elks Lodge 501 and Lady Elks, children who might otherwise go without proper and safe transportation will receive new car seats.
Car seats are provided for patients' families in the Mercy birthing center or neonatal intensive care unit (NICU) who can't afford them, as well as patients in the emergency department when a car seat is damaged in an automobile accident.
"The contribution for car seats from the Elks and Lady Elks is a tremendous help for our families that would otherwise have an extremely difficult, if not impossible, way to provide a safe car seat for their babies," said Kathy Schoech, Mercy Joplin NICU nurse manager. "Without these seats, some families would be using outdated or used seats that may have previously been involved in an accident. Without the donation of the car seats from the Joplin Elks, these children may have a seat that isn't safe or worse yet, no car seat at all." 
Proceeds from the Lady Elks Trivia Night held in October were paired with a donation from the Elks to make the $4,000 gift possible.
"The Elks motto is 'Elks Care - Elks Share,'" said Teresa Brothers, Lady Elks 501 president. "We care about children and this contribution helps families insure the safety of their children."
According to Brothers, the Elks plan to continue their long history of support to the hospital with an annual donation for the car seat program.
"Mercy Health Foundation is very grateful for this generous gift from the Joplin Elks Lodge 501 and Lady Elks," said Kim Kory, Mercy Health Foundation Joplin executive director.  "The longstanding relationship and support we have received from the Elks has impacted the lives of many precious babies and pediatric patients through the years.  The tradition continues today with this gift for the car seat program which allows parents to know their precious loved ones are safe and secure."
For nearly 120 years, Joplin Elks Lodge 501 has been a major benefactor of St. John's Hospital, now Mercy Hospital Joplin. The Elks Lodge formed in 1899, just three years after St. John's opened. In 1953, St. John's opened a polio ward named Elkland in honor of financial gifts from the lodge.
In 1968, Elkland was relocated to a new hospital, St. John's Regional Medical Center, and remained until the May 22, 2011, tornado destroyed the hospital. Through the years, thousands of children and infants were treated at Elkland.
"One of the founding principles of the Elks is charity and we continue to support Mercy's car seat program because we know our resources will be put to use in a way that we can rely on," said Will Lynch, exalted ruler of Joplin Elks Lodge 501. "We are happy we can be part of a program that can help families in need."
For more information about Mercy Health Foundation Joplin or to make a donation, call 417-556-2267 or visit www.mercy.net/JoplinDonation.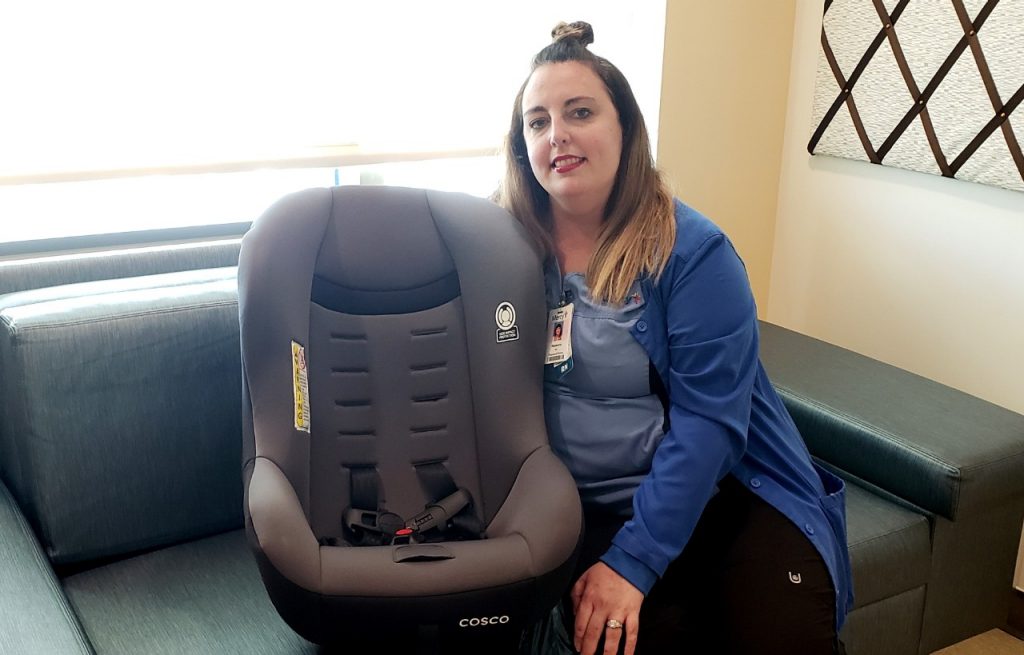 Thanks to a donation from the Joplin Elks, Mercy Joplin NICU nurse Rebecca Brown and her co-workers will help distribute hundreds of car seats to Mercy patients' families in need.